So, have I mentioned I'm volunteering for the UPA 2003 Club Ultimate Championships? If you've been reading for a while, you might remember I was there last year too. Left work an hour early tonight to go to the orientation meeting, Eric G kindly offered me a ride up. We met up with Helen there, which was a nice surprise. Attendance was taken, and the volunteer coordinator went through each of the volunteer positions and gave some hints regarding each position. Then we all got t-shirts!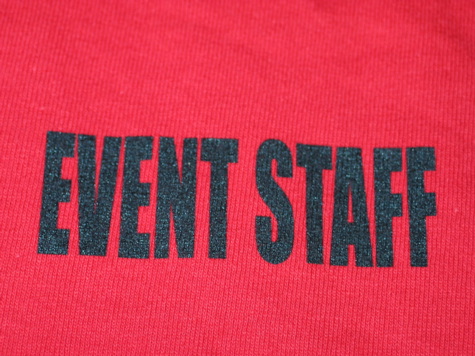 Elite!


Cool VC logo.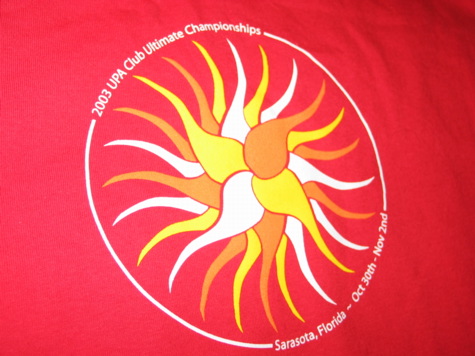 On the back of the shirt.
Shortly thereafter, Eric, Helen and I headed over to Chilis for beverages and "boneless chicken wings". What a gimmick! But they were good. 🙂


2-for-1 specials on pints tonight. We ended up all getting Amber Bock.


Eric G smiles for the camera


Me. Also Eric trying to sabotage my photo.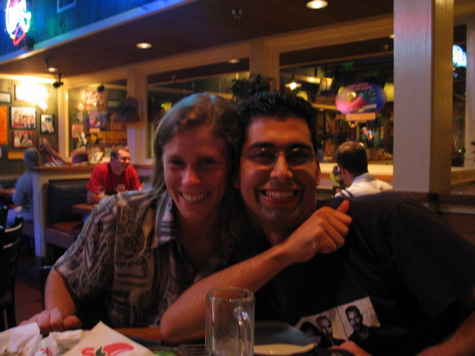 Helen and me.
I don't start my volunteer work until the second half of the tournament, but it's a full weekend — starting at 8 and ending at 6 both Saturday and Sunday. I'll have several roles during that time, including "Field Marshall": so far I know that'll involve maintaining an adequate level of food/water for players by radioing in when the need arises, and confirming scores with team captains and radioing that in too. I'll also be working with the VC Ultimate crew, who will be filming the whole event, documentary style. Cool!
I get to learn a totally crazy method of keep stats on the game, the RUFUS method. We received a booklet about it tonight at the orientation meeting. Looks pretty complicated so far. I don't really see how it's possible to do by oneself (for example, among many other things, you have to record the number of passes thrown per possession and the direction of the wind!). Ick! I still have to read the booklet on it (about 8 pages) — it may not be so bad after all.
What's your favorite volunteer memory?