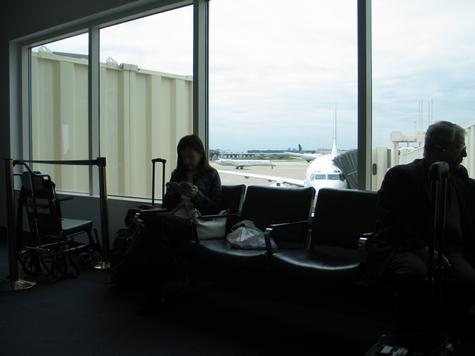 Waiting at the gate in Houston
Well, Jeff and I arrived in San Antonio shortly after 5pm tonight after an uneventful hop through Houston. We have a Jeep Liberty as the rental! As Jeff remarked, it would have been useful for our last trip to Louisiana. The Liberty is a funny drive, being so high off the ground in such a short vehicle; it was like driving the Green Machine™, except with a better turning radius. Arrived at our hotel, a brand-new LaQuinta. It looks like gigantic yellow Peep. It's so new, they haven't even had their grand opening yet. And the WiFi doesn't work. But the jack labelled "CAT 5e" does 🙂
Our hotel is just a few feet down the road from Benihana, so guess where we ate tonight 🙂 Just got back; I am stuffed!! I'm gonna sleep well tonight, let me tell you.
Don't forget, if you want a postcard, just send me your address.