[Update, 9:33pm Thu]: Added third storm tracker picture of Charley.
[Update, 8:29am Fri]: Added fourth storm tracker picture of Charley
[Update, 10:30am Fri]: Added fifth storm tracker Charley pic.
[Update, 12:37pm Fri]: Added sixth storm tracker image.
Wow, so it's hurricane time in Sarasota. Hurricane Charley's just below Cuba right now and moving north quickly — 30 km/hr!
As I said to the family last night over email, I'm kinda excited and a little nervous about this one. Excited because it'll be my first hurricane. Nervous, because of statements like this one (from StormCarib — the Carribean Hurricane Network):
THERE IS A DISTINCT POSSIBILITY THAT CHARLEY COULD BE NEAR MAJOR HURRICANE STRENGTH WHEN IT MAKES LANDFALL ALONG THE FLORIDA WEST COAST …ESPECIALLY IF IT MAKES LANDFALL FROM THE TAMPA BAY AREA AND SOUTHWARD WHERE THE VERTICAL SHEAR WILL BE LESS.
Whatever the heck shear is. I presume it's something to do with upward air movement.
Cam and I were discussing today — it's weird, having so much advance notice of a natural disaster. Up on the west coast, it's all about the earthquakes — and you rarely get any notice on those. But here, we've had at least 24 hours to freak out now, and the major strike isn't expected for another 24 (we'll probably get some rain/wind as Tropical Storm Bonnie glides by to the west over the Gulf of Mexico). Cam also made a post about the storm.
I've been keeping an eye on the movement of Charley. Here are two three four five six storm tracker images, each separated by 3 hours, courtesy Intellicast: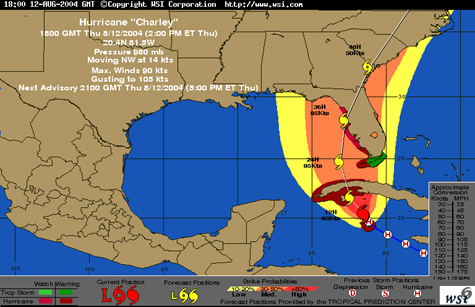 2pm EST Thu. Click for a larger image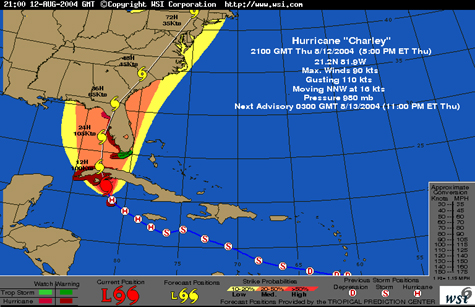 5pm EST Thu. Click for a larger image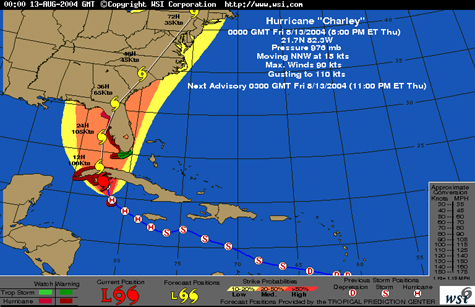 8pm EST Thu. Click for a larger image


7am EST Fri. Click for a larger image


9am EST Fri. Click for a larger image


11am EST Fri. Click for a larger image
Click here for an up-to-date image.
As you can see it's moving pretty quickly, and they still predicting it to hit Florida right over top of the Tampa Bay area. Hold on to your hats!
Shops down the street are boarding up their windows. That new Starbucks just down the street I was talking about a couple of days ago? All boards now. Except for a small bit of spray painted text ("We're open!") where the door used to be you wouldn't even know there was anything there. If things aren't too hectic on the road I might head down and snap up a photo or two.
As far as preparing my place, there's not a lot I can do living in my apartment. Being on the third floor, I'm pretty safe from flooding:


That is, if the roof doesn't rip off. 🙂 Stay tuned for updates…