Last weekend Cam got a tent from Melissa for his birthday. A tent that sleeps 8-10 people. Middle of last week, Patrícia mentioned she wanted to see Miami. Friday (which we had off), inside the space of four hours, we planned, packed and departed on a camping trip to the Miami Everglades campgrounds. We arrived late Friday night, did the late-checkin thing, set up the tent (which turned out to be pretty straightforward) and hit the sack, but not before enjoying a few Coronas and a game of Uno. Saturday morning we went off in search of a place that sold waffles to help Melissa celebrate her birthday; we couldn't find anything and settled on a Spanish (Cuban?) bakery offering breakfast. It was a little confusing (the menus weren't in English). We ended up ordering pan tostada/huevos y jambon/café con leche (toast, fried egg with ham and cheese and coffee with milk) — it turned out to be some of the best bread I've had since I've been in Florida. I suppose it helps that were at a bakery. Heh. The coffee was this tiny styrofoam cup of delicious, sweet, rich stuff. I left completely satisfied, and with that it was off to Miami… but not before spotting a Miami weekly entertainment rag in the parking lot, with a woman cupping her breasts and a headline that read "These Could Be Yours". Yep. Sounds like Miami.
From there we didn't really have a plan for what we wanted to do in Miami, so I suggested South Beach (aka Miami Beach) since I'd been there in the spring for the Winter Music Conference with Davin. I think I speak for everyone when I say we had a great time. We hit the beach, stopped by *$, walked the boardwalk for a bit, took in the art deco buildings and stopped by the historic Spanish district where Brian, Hil and I ate last time they were down. We did spend a little while searching for a Band-Aid for Joe, who stubbed his toe, so remember to bring some should you find yourself adventuring there. The BP (gas station) we found only sold beer and junk food.
We had an early afternoon meal at a restaurant called Chocolate; once the girls saw it it was pretty much all over. I had no hesitation primarily because I knew if the service was going to be anything like what I had experienced with Brian and Hilary at Hosteria Romana, it was going to be great. And it was. Heh. We rounded out the meal with a delicious cake for Melissa and some of the best coffee I've ever had.
Some other interesting things: Miami-Dade County has a transit system. One that actually looks like it gets some attention. That was a refreshing change of pace from Sarasota. Also, at least on this day, there were people out on bikes, also neat to see.
Sadly, only two girls in bikinis on rollerblades. I feel ripped off.
🙂 We motored back to our campsite and that night were all pretty exhausted, but it wouldn't keep us from hitting the pool, firing up the BBQ and grilling some wieners and marshmallows, and exhausting our supply of wine. Haha. Good times, good times. Sunday we packed up, which took just under three hours, which I thought was pretty good, considering that included the time needed to clean everything up; next time we'll have to remember a broom, haha.. thankfully the campsite included running water, so we weren't exactly roughing it. Actually it included wireless internet too, not that any of us had our laptops 🙂 For breakfast we hit the buffet at the Miccosukee Casino just before reaching Naples which held us over nicely for the remainder of the trip. The remainder wasn't all smooth sailing — at one point we had to pull over because of torrential rain. And we pulled right in the parking lot of the "Skunk-Ape Research Headquarters", in Ochopee which I thought was pretty funny, given the Skunk Ape was the central antagonist in Stomp! Shout! Scream! I asked the guy at the shop if he'd seen the movie and he said no, but that he'd read something about it on his Yahoo News Alerts, which sounded pretty funny given the guy was dressed like Larry from the Blue Collar Comedy Tour. A few minutes later and the rain had died down some and were back on the road, reaching home by mid afternoon. A thorough and completely satifisying weekend. Hooray 🙂
Here's a few pics.


Corner of me, Joe, Patrícia


The tent (big enough to stand up in)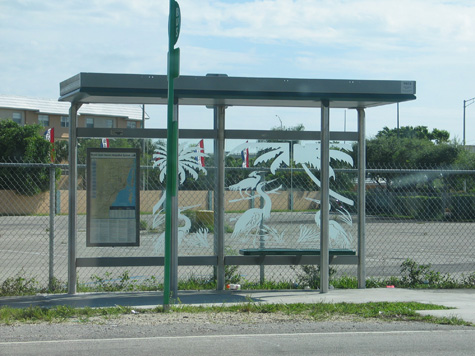 Miami-Dade County bus shelter


Pastels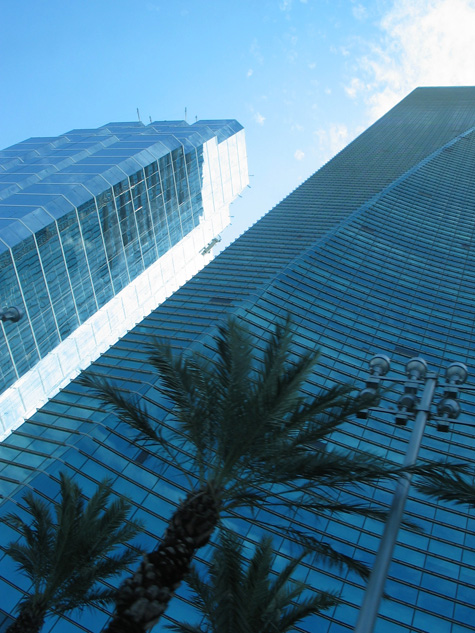 Traditional big city buildings, too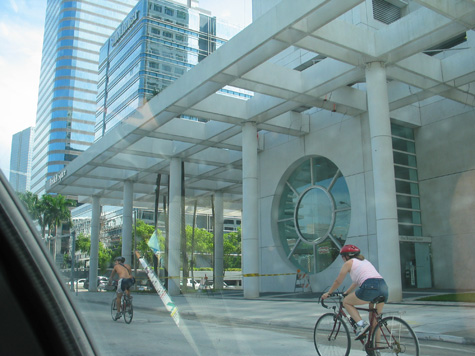 Cyclists were about


Enjoying the sun


Facing East on South Beach (aka "Lummus Park"). Click for the big


Facing West on South Beach. Click for big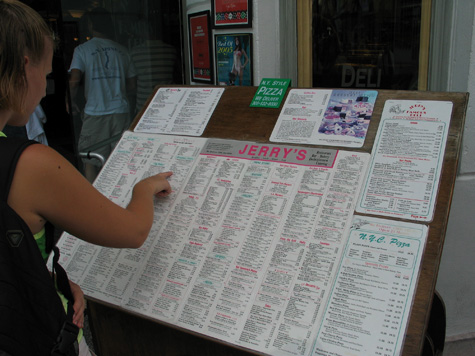 Melissa spots the waffles 🙂


The buildings were all very unique


Sidewalk in Spanish district


Name pretty much says it all


Post-meal at Chocolate


Grillin'


Patrícia


L to R: empty wine bottle, plastic wine glass, graham crackers 🙂


Yeah… exactly what I look for when I go camping. Where'd I put that MacBook Pro? Oh yeah it's still at the store


Dozin'
Update: Be sure to check out Cam and Patrícia's posts, too 🙂