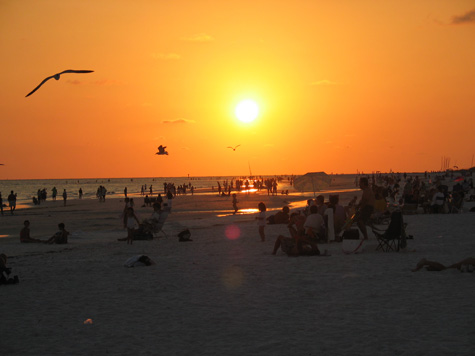 It's a beautiful morning here in Sarasota! For some crazy reason, my body thought it was a work day and woke up within 5 minutes of my normal waking time — even though I went to bed about 2 hours later than normal. Weird eh?
Comcast hooked me up TeH BROaDBANDz0rs yesterday. I'm pretty happy so far! Comcast rates the connection as 1500/256, and at about 2:30pm yesterday, I scored 1484/243 with dslreports.com's speed test from New Jersey to here. Woot! I shall test my connection again to figure out if this was a fluke.
I gave the cable modem guy a tutorial on how to hook up to a Mac OS X machine. He was afraid when I told him it was a Power Mac G4. I told him not to worry, that it was easy. And proceeded to give him lessons on how to set up DHCP networking, showed him how to find the Applications folder on the hard drive, explained Apple released an application called "Safari" which competes with Internet Explorer and that many Mac users he'll run into could be using it; showed him how to add an account to "Mail" — the standard email program that ships with Mac OS X (he expected me to be using Outlook Express, bleh!), how to colourize messages based on various criteria, and explained Mail's "Junk Mail" filtering options (after setting up my Comcast email account, Mail automatically put the Comcast "Welcome" message into my Junk folder, haha..).
So yeah! I've got broadband baby, like I've never seen before! My machine is totally exposed to the world now — I'm no longer behind any firewall, except for my own — which I can control. What does this mean for you? Nothing much, except now, I can send you files using programs in which I could only receive before, like Snak (an irc program) and MSN Messenger. And the cool part is with both of these, I can drag a picture right out of my photo management software, and drop it onto a chat window, and both Snak and Messenger know what to do with it. Now that's integration. I didn't even have to know where the original file was located on my drive. Now that's cool.


Ed Norton, er, I mean, Cam, watching the sun set at Siesta Key
Cam, Melissa and I hit the beach yesterday! Throwing a frisbee in salty waist-level water is much harder than you think. Catching it is even harder. But like the warriors that we are, Cam and I kept at it for a good hour. Waits for applause to die down. Pretty amazing, I know. We returned to our chairs to have iced-refreshments. After watching the sun set, we all had a much-too-expensive but still really good dinner at the Sarasota Ale House.
Today is gonna be fun — gonna go play Ulti with the New College crew for the first time in a couple weeks. 🙂