Folks from Canada: Ever wonder what happens when you put a mainlander on Saltspring Island? Read about it over at Asiago (my friend James). Funny stuff.
Just got back from an awesometastic practice. First let me say that I'm very disappointed with Sarasota Parks and Rec — somehow they managed to lose our contract and double book our field at Bee Ridge Park, so we ended up without anywhere to play. Thankfully we didn't pre-pay, so I've still got $5 from 13 people for the next time we practice. Supposedly we're "penciled in" for next Tuesday, but I have my doubts. To that end I'll be calling the 17th Street Park in the next day or so to find out what's up. "But wait," sez you, "I thought you said you just got back from a super-crazy great practice. But now you're saying you had no field?". Well, that's true. We had no field. But that's not gonna keep the Sarasota Slackers down! We ended up running drills on the grassy area just outside the double-booked field. And it actually worked out really well! Honestly, I don't think we would have used all that much more field anyhow! Things accomplished: The "Come to" drill (with checks marking to both backhand and forehand sides), how to stack effectively (including the first defender cheating a little forward and to the force side), cutting sequentially from the stack, effective zone defense, as well as offense. In addition, we created what I believe to be the first entry in the Slacker playbook: the Slacky (whose secret cannot be disclosed here for reasons which are classified).
After all that, we all settled down to some fantastic carrot cake… thanks to our teammate MJ becoming engaged! Congrats MJ! Meanwhile, Scotty (yes, the same Scotty from the last entry) provided the team with a cooler full of beverage (wahoo!!) as well as fresh veggies he just picked off the organic farm he works at (you might recall he's done this before). I picked up scallions, two heads of lettuce and an eggplant! Woot!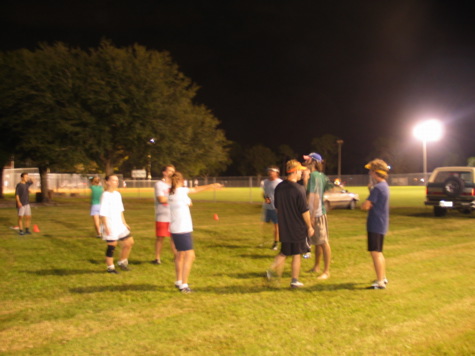 Handheld nightmode blurryness. Left to right: Cam, MJ, Karen, Darren, Amy, Tom, Rob, Alec and Scotty.


Darren looking epic, Tom explains how to catch a disc while holding a beverage, and Danny poses for the camera!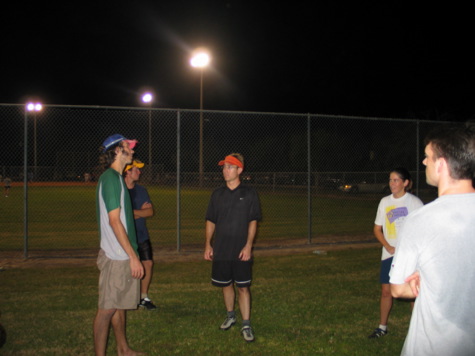 Alec, Scotty, Rob, Amy, Darren


Alec, Karen, Darren, Danny


Tom, MJ, Eric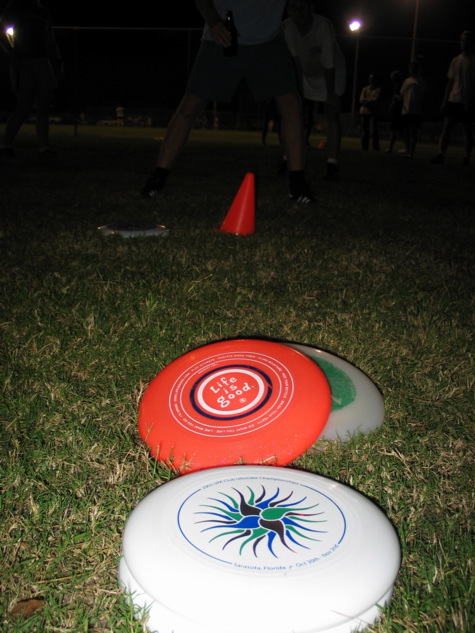 From the cone's perspective.


Alec forces Amy to throw down the sideline, while the rest of the team gets ready to set up into a stack.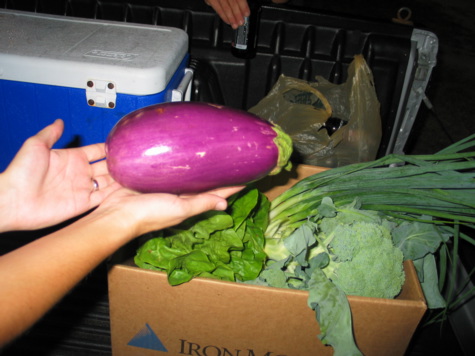 What a beautiful eggplant! Amy models.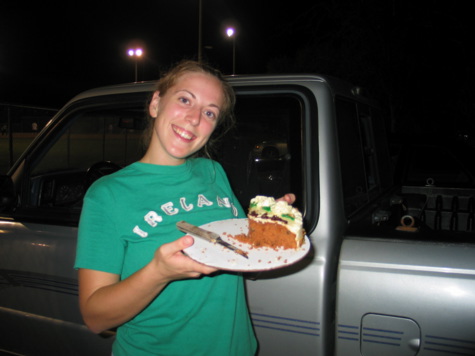 "Would you like a piece?"
So definitely a fun night! Now it's off to make a yummy salad. 🙂 How was your day?