On Thursday, after spotting this post on MacRumors that some people had already been able to purchase iPod Touches* from the SoHo Apple store in NYC (a full two weeks before the official release date of Sept 28th), I shot Jeff an email; I knew he was already interested in getting one, and so was I. We were going to make the trip up to the Tampa Apple store Friday morning (we get every second one off), but he was really busy and had to work, so we pushed it off until Saturday instead.
Saturday morning arrived, and Jeff and I drove up to Tampa, picking up Kosi along the way. They didn't have any left in stock. They did however, have some on display, so we got to play a bit there. I'm going to copy and paste this from a MacRumors post I made about the experience:
———————
This morning I made the drive to the Tampa Apple store from Sarasota with a work buddy of mine.. they didn't have them in stock; we were told to come back Monday. They *did* have them on display, though. It seemed like only half the staff even knew they were on display. Anyway, I ask one of the staff near the iPod touch area if I could take a photo, and he sneers,
"What, are you gonna post it on Digg or something?"
Me: "Nope… this is old news for Digg. I just drove an hour to come up here and buy one, I'd like to go back with something."
Anyway… guess who just got back from Best Buy 😀
———————
So yeah. And after a day and a half of using it, while I haven't exercised all of its features yet — like, purchasing a song from the Wifi iTunes music store; I got an error when I tried last night — I have got to say I am really impressed. The built-in web browser is the best I've ever seen on a handheld device, the photo/slideshow experience is great — flicking between photos is fun 🙂 — the battery life is still surprising me and the thing is so thin it's ridiculous. And my fears about the screen, brought on by this DaringFireball post, have gone largely unrealized. The screen is a little dark on its default brightness setting, but for the most part, I like it. Blacks are SUPER black. I haven't seen it go negative yet.
I have yet to load a lot of music onto it; slightly disappointing is the fact that it doesn't seem to want to sync via Firewire, and my computer doesn't have USB 2 built-in. Easily solved however; I've got the Sonnet Allegro 5-Port USB 2.0 PCI Card on order from my favorite third-party Mac-related online computer store, Other World Computing, which should arrive sometime next week. So I've been able to sync things to it, just at USB 1.1 speeds, which — for those who don't know — is like pulling your fingernails out slowly.
Anyway I'm really looking forward to using it more; all I need now is a case 🙂 Here's some pics (clicky)!


Photo I took in the Apple store


Me and Jeff with our new acquisitions


Carnage as I ripped the box open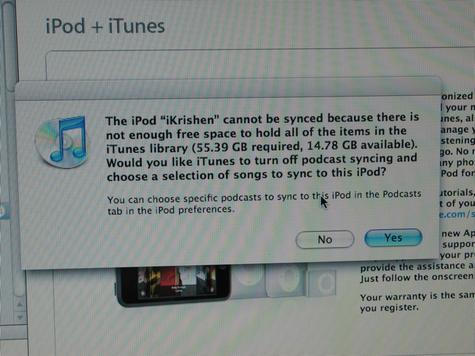 Gonna need to make some tough decisions, haha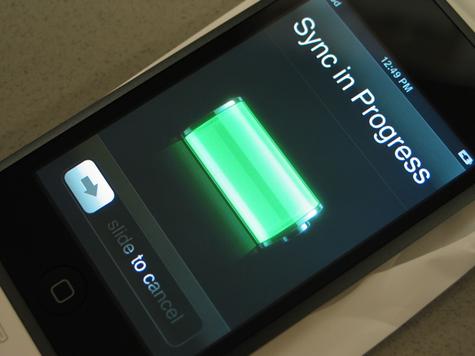 The now famous green syncing screen
—
*Yes, I know it's "touch" with a lowercase "t". For the sake of not needing to say "iPod" every time I want to reference it, I'm going to be capitalizing the T.