[Wouldn't you know it. Was using the newest build of Safari (beta 2, v73) at 3:30 this morning to write my blog entry, and it crashed. I really should have been using Camino. Don't get me wrong; Safari is a small, fast little browser, becoming more stable and standards compliant by the day. But Safari doesn't have unlimited undo/redo in text fields; Camino does. And Camino rarely crashes on me; Safari seems to go down pretty regularly. One of these days I'm going to get the discipline to just do up my entry in Word or something, haha. Bleeding-edge MT users: is there a "Save Draft And Preview" button in the latest version? (I'm using 2.5.1). That would really handy. Most of the time I just want to save what I've got AND see how it looks, and I hate having to wait for it to finish saving so I can hit the Preview button. Do it for me damnit!]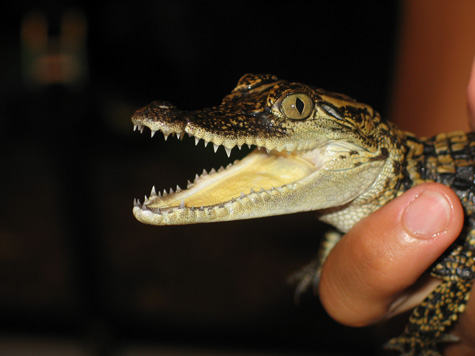 So the last couple of nights have been pretty fun! Thursday night I zipped up to Bradenton with Eric G to go to an organizational meeting for a county-sponsored Ultimate league that's starting up, up there. The guy that's organizing it, Steve, hasn't actually played before. This is unusual; most people who do admin-style things for Ultimate actually play the sport, too. Of course I'd love it if he'd played a little and knew a bit about the culture of the sport (e.g. the fact that referees are NOT and will never be part of the game). But I think it's kind of cool that he hasn't played, too: it means the sport has reached a certain recognition level with people outside its normal sphere of influence; it adds a bit of mainstream legitimacy to it, a quality which Ultimate players always seem to be striving for.
Hmm. Actually, that reminds me of raves going overground.
And I had the day off yesterday. Spent most of the day just relaxing. Thank god for Good Friday! Hehe.. Mom called and I got to talk to my whole family, including my older brother Anand. Sounds like he's happy and doing well, which I'm so glad to hear. I don't think I've ever told him this, but besides being my brother and all *grin*, I look up to him quite a bit. He's got a great sense of humor and many insights about the world we live in. I miss him terribly. Hopefully everyone can come down soon. The weather is so nice! You'll roast!
In the evening Kim and Cam and I went down to Siesta Key. It was superfun!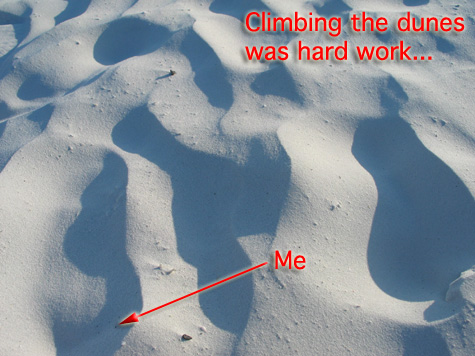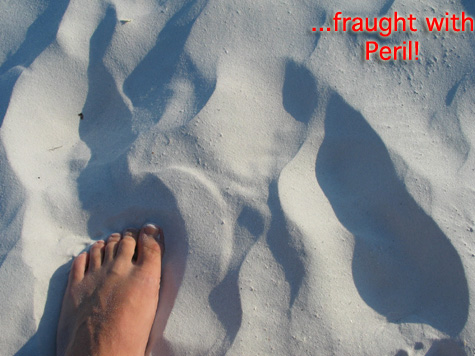 I can't believe how late the sun is up these days. Cam drove, and his car still had pre-daylight savings PST time on it, so it read 2pm. And I didn't even think twice about it when Cam pointed it out. I totally thought it was correct. Try 6pm.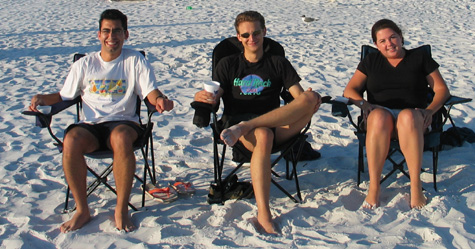 Me, Cam and Kim havin' a cold 1. Would you believe it was 7 when this shot was taken?
Anyway, at 4:30 I'm be heading up with Jeff to O-town (a.k.a. Orlando) to visit the Virgin Megastore and get a bite to eat in Downtown Disney before going to Paul van Dyk at the House of Blues. It's about a two hour trip up. Oh my god, I can hardly wait! I'm still going to try and sneak in a disposable camera, just have to go buy it now. 🙂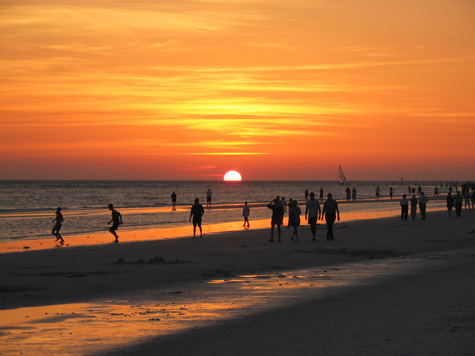 Sunset at Siesta Key Beach, 7:54pm last night. People on the beach clapped when it disappeared a few seconds later! Control-click (or, if, you're on a PC, right-click) on the image to download the full-resolution version [2272×1704, 892k].