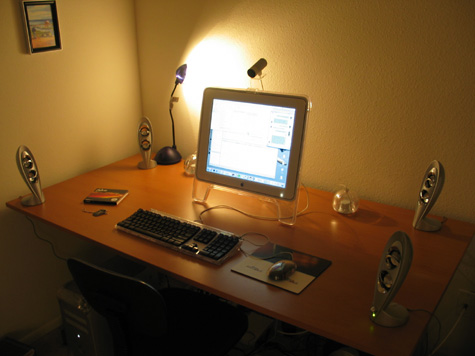 My computer and the four satellites of the JBL Invader sound system I picked up on the weekend. Not shown: the subwoofer that makes this thing sound oh-so-sweet.
Ever just have one of those really satisfying weekends?
Friday, after work it was up to Apple Store International Plaza with Jeff and Cam for the release of Mac OS X Panther (photos from around the US and worldwide); I left with a new set of speakers. The speakers and I are getting along famously, by the way. I'm hearing songs I've played hundreds of times before in a whole new light. (How's that for a mixed metaphor?) They sound is so good, several times in the past few days I've found myself wondering where the sound was coming from (certainly couldn't be my computer!). Heh.


Saturday night was a ton of fun! I've never seen anything quite like it. Ron goes all out for his parties, using sound, light, props, animatronics and fake smoke. Crazy stuff really. I've just put up a new gallery, Hallowe'en 2003. Check it out!
Got home from the Hallowe'en party around midnight, did some laundry, then hit the bed by 1:30 or 2. And was up by 7:30! Had to clean house, Cam and Melissa were coming over for breakfast and the place was a mess. Scrambled out the door, got supplies, and we had a yummy scrambled egg breakfastybrunch thingy. MMm good.
Watched a couple episodes of Buffy, headed out to Ultimate with Eric and Sonia, and came home exhausted! Got to chat with Sarah for a bit over iChat, that was nice too. Finally hit the hay around 2am, and was up by 7:20.
Sadly, however, it appears all this fun may get rudely interrupted. The back of my throat has been sore since I woke up this morning. Sometimes I wake up with a sore throat, but usually this sort of thing disappears within a 1/2 hr of waking. Today's sore throat is still with me and shows no sign of weakening.
Maybe I'll start thinking about that after I get back from watching another couple episodes of Buffy at Cam and Melissa's. We're getting close to the end of the season!