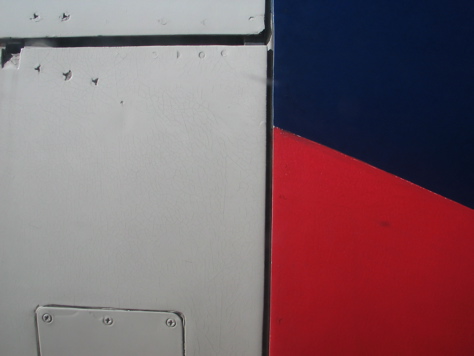 My view from Sarasota to Atlanta. Yes, that's the rear engine of the MD-88 (which in all seriousness I must say is one smooth ride).
Made it into Columbus around quarter to three. Now I'm sitting in my hotel room trying to figure out what I want to do with the rest of my afternoon. The Hyatt on Capital Square is one old-school hotel. When you walk in you have to go around a corner to find the front desk, which is called "Registration". The room is oldish, but has a beautiful view (especially here on the 7th floor). /Everything/ costs extra. It's $6 for 3 cups of coffee; parking is valet only. I'm on dialup for the first time since 2003 because WiFi is $10/day (I suppose I should be grateful it's available). There's a bottle of water on this desk that will cost me $5 if I open it. There are some definite nice touches though. This desk has some kind of stone surface, and the maid left her name on a card (!). The girl at the registration desk asked me how my trip was and said "Have a nice stay with us Mr. Greenwell" as I walked toward the elevators — which were also not only fast, but also had great buttons (they lit up instantly in a bright red). Fancy.
So anyway — off to see if I can find something to see before the sun goes down.