So the Savannah road-trip was much fun. So many experiences — seeing the state of Georgia for the first time, eating at the Waffle House for the first time, sleeping on the floor of a stranger's house, wearing a cowboy hat with a monkey on it, learning a new definition for the term "hot", southern accents, sharing a 5th-floor condo on the beach with 14 people I'd just met, and learning not every beach has sand as nice as Siesta Key. Oh, and did I mention fantastic ultimate? I spent a few hours over the past couple of days picking out just the best shots for you. Enjoy!


[5/23 – 8:50pm] Friday night, heading up the interstate. John and Woody in the front, me 'n Cherie in the back.


[5/23 – 11:08pm] A liquor store in Gainesville. Talk about cornering your market!
We spent the night at Woody's sister's place in Jacksonville, and were back on the road again bright and early.


[5/24 – 8:11am] Next stop? Breakfast.


[5/24 – 8:18am] A passed-out Cherie.


[5/24 – 8:21am] Outside the Waffle House in Jax. Wanna see inside? Click here [3.2mb, 12 seconds].


[5/24 – 11:03am] Getting close!
We arrived, cleated up and rushed from the car to the fields. Found out I was on the purple team — we played the yellow team first. It was a battle of epic proportions: Sunshine vs. Rain. Sunshine renamed themselves "Obi-Wan" after we beat them (something about not being able to see the light? haha..)


[5/24 – 1:54pm] The orange team (aka Fanta) giving Rain a post-game cheer — awesome spirit!
Some hats at this tournament were more creative than others. 🙂 Scroll back up a few pics to Cherie sleeping in the back of the car. See that black and white furry thing by her left shoulder? 30 minutes after that shot, that furry thing was attached by velcro to my cowboy hat. Unfortunately I didn't end up wearing it during play because it cut off my circulation a little more than I wanted at the time. *grin*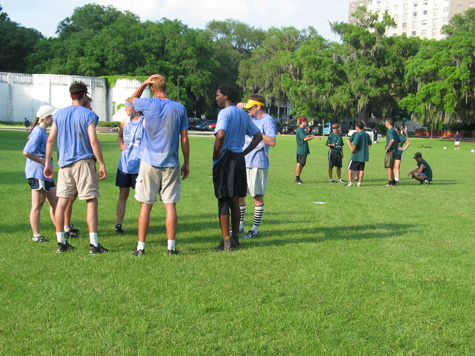 [5/24 – 5:59pm] Timeout! Rain figures out the best way to STORM!


[5/24 – 6:01pm] Larry of Rain goes on his tiptoes to avoid being skyed by the green defender. Click here [13.1mb, 47 seconds] for a clip of the game.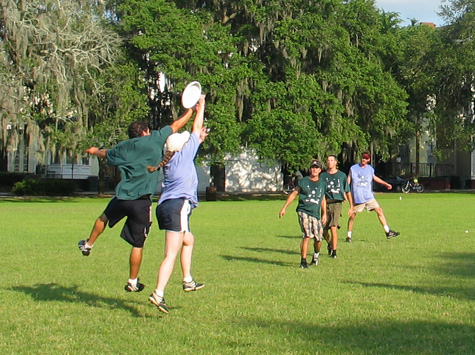 [5/24 – 6:03pm] Rachel maintaining possession for Rain.


[5/24 – 6:30pm] Green and Rain chillin' on the sideline. (Hey VUPS crew — notice the Victoria Ultimate Player's Society disc on my bag? Represent!!)


[5/24 – 7:32pm] A shot of Forsyth Park as I was leaving for the day. The playing fields were on either side of this walkway.


[5/25 – 12:26am] Back at the condo! Brian (pronounced Bree-in) the green machine.


[5/25 – 1:09am] Joe (I think) a little sleepy, Eric, Tam and Woody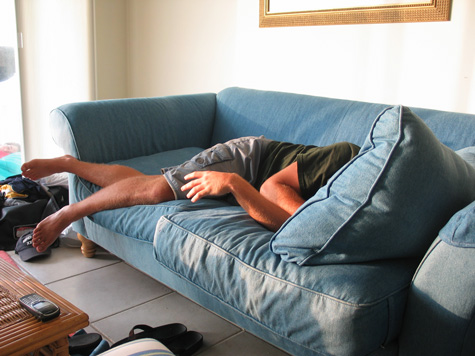 [5/25 – 7:10am] Sunday morning was kinda rough. That's Woody eating the pillow. I slept on the floor, There were a few people sleeping out on the porch too — really nice at night, but by 6:45am, watch out! Direct sunlight made it unbearably hot.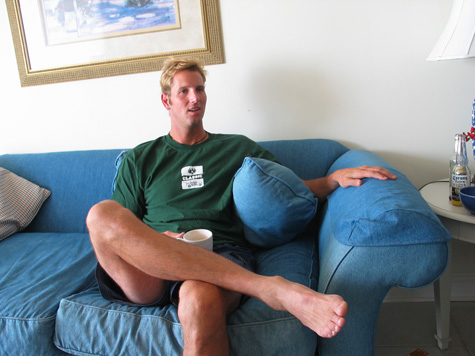 [5/25 – 9:40am] "Just add coffee!"


[5/25 – 9:41am] What's the best way to fix a Sunday morning hangover? Bloody Marys, of course. John fixes us a few.


[5/25 – 9:43am] Prep work for the 15 omelets Woody would end up cooking for us.


[5/25 – 9:48am] Johnny Mac preparing some bits for the omelets. Mr. Mac cooked a fantastic pasta dinner for 13 the night before and didn't even take any for himself! It was awesome, very tasty, very good stuff.


[5/25 – 10:01am] Cherie demonstrates her ability to juggle two high-priority tasks.


[5/25 – 11:27am] Five on the line! The beach portion of the tournament was superfun. The fields were totally tiny — I could have probably thrown a high-release backhand across. I know you can't see the whole field, but see that orange cone the furthest left in the picture? We're standing on our endzone line that that's the marker for the back, if that gives you any idea. Click here [4.4mb, 21 seconds] for panorama of the beach as seen from our condo.


[5/25 – 1:20pm] Rain group photo! L to R: Brent, Me, Cindy, Kevin, Kelli, Woody, David, Rachel, Ernie, Casie, Bill.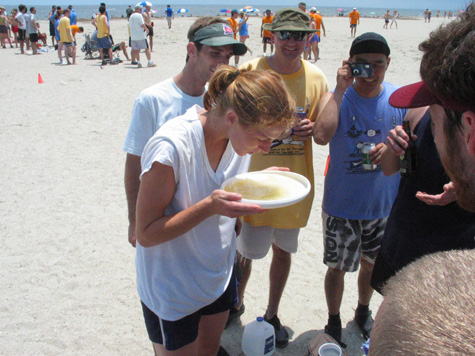 [5/25 – 1:24pm] Casie's Initiation! Click here [10.9mb, 40 seconds] for video. Woody holds the world record — downing a disc's worth of beer (approx 3 litres) in 26 seconds.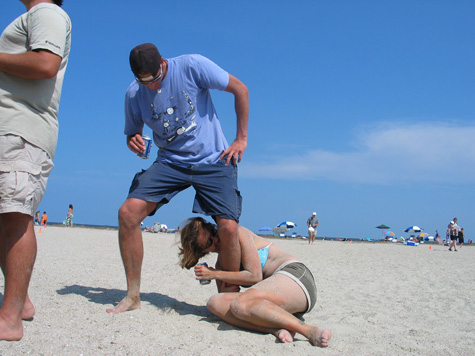 [5/25 – 3:56pm] Woody discovering why he couldn't move as quickly as usual (that's our lovely tournament director Heidi attached to his leg.) All part of our game of beer ultimate. The rules? You have to drink before you throw (otherwise it's a turnover), you can't run (or it's a turnover), "strip" calls result in the removal of one article of clothing by both parties, and spilling anyone's beer (including your own) is a foul (and guess what? a turnover). It was fantastic fun. We started with six, played for two hours, and had 14 playing by the end of it. Click here [8.3mb, 32 seconds] to see us in action!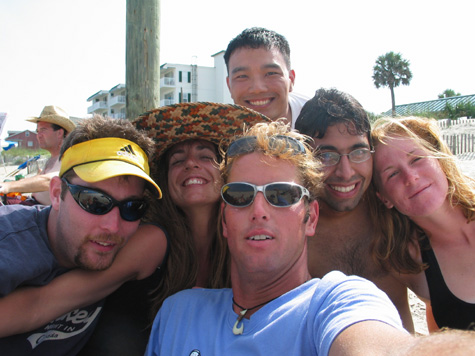 [5/25 – 4:37pm] Another Rain group photo. Indisputable evidence I was wearing the hat at some point! 😀


[5/25 – 4:50pm] A post-tourney pickup game! This one is the state of Georgia vs. Florida (skins).


[5/25 – 8:30pm] Sunday evening, amongst a sky threatening to dump rain on us, a bunch of us hit the outdoor Tybee Island eatery "The Crab Shack". Their slogan is "Where the elite eat in their bare feet". It was pretty good for the most part — except the shrimp I got were practically impossible to peel, so we took them home in a box, and fried 'em up with a little butter and garlic for breakfast appetizer on Monday morning!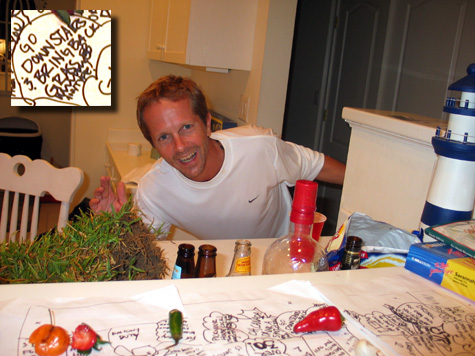 [5/26 – 1:52am] John had the idea of inventing a board game with Eric, Jenny, Woody and I. We wrote the rules as we went along, put bits of paper with numbers on them to act as dice, and used small, dangerous food items as counters. Yes, that's a piece of the turf in the sink, dirt and all. I think Eric took that one kinda literally. Some of the other squares: "Drink if you're a hot chick", "drink for every year you are over 30", "drink your shoe size!!!", and "drink if you're non-US-citizen" and "drink two if your name is Jenny".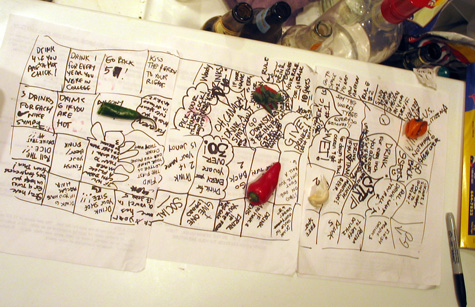 [5/26 – 2:27am] The completed board.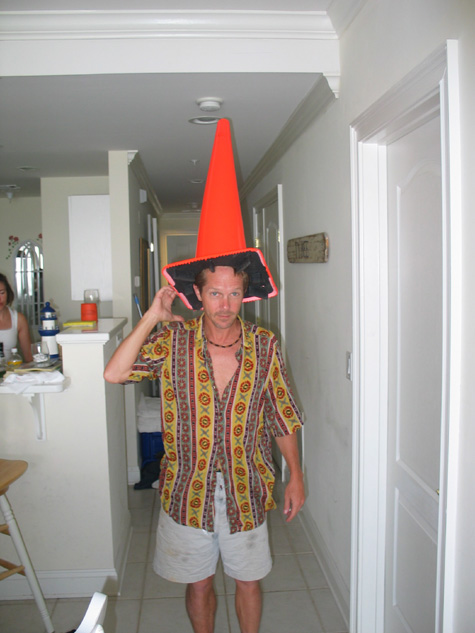 [5/26 – 10:13am] Eric demonstrates proficiency at.. er… something.


[5/26 – 11:02am] Had to get a shot of this stuff before we left. I guess you could technically call it "sand"… but I think a more accurate way to put it would be "millions of microscopic knife blades". I ended up playing in my running shoes!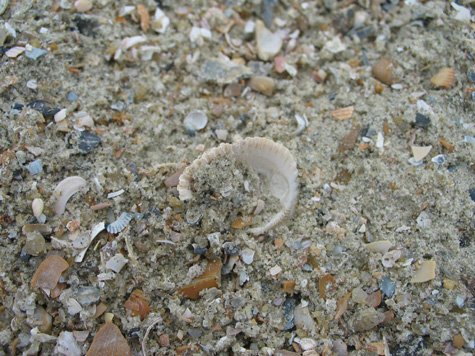 [5/26 – 11:02am] It would have been nice to have had some of those "aquasock"-style shoes. Woody and Cindy both played barefoot — hardcore!


[5/26 – 12:37pm] John, cool as usual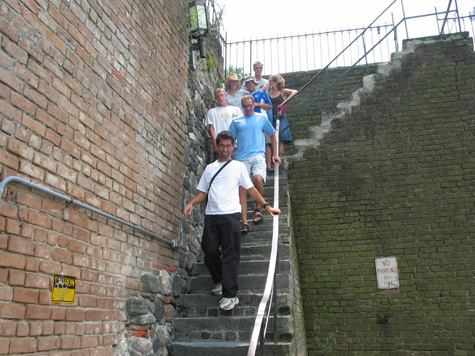 [5/26 – 12:46pm] This stairwell (leading from the main street level to the river level in the shot below) was at an insane 45 degrees. Top to bottom: Woody, Jenny, Suzy, Brian, Ryan, John and yours truly. Thanks to Wrath (I think that was his name) for taking the photo.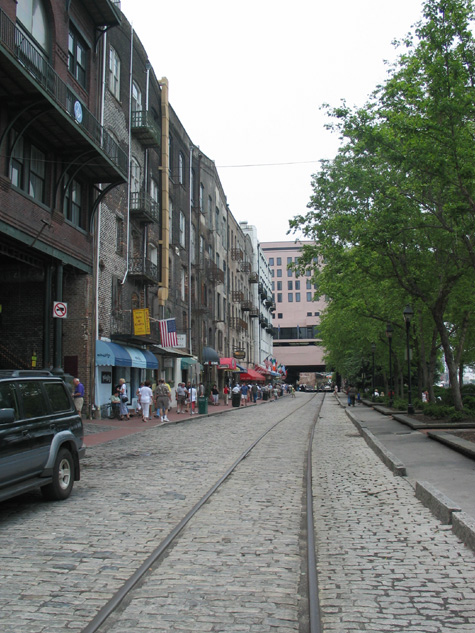 [5/26 – 1:05pm] This road runs parallel to the Savannah river, which is just to the right. The story goes that the roads were built from the ballast ships from Italy dumped on the shore.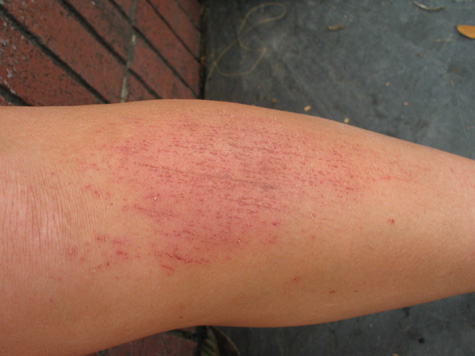 [5/26 – 1:18pm] …If the shot before this one was called "cause" you can almost certainly guess what I'd call this one. This fine leg belongs to our very own Helen M.


[5/26 – 2:06pm] I can just hear James Earl Jones doing the "Showboat" advert now: "Life, on the river."


[5/26 – 1:57pm] Even though it was three weeks earlier, a running-joke throughout the tournament was to sing Helen happy birthday. Here, we got a street vendor to run up to her, give her a hug and wish her a happy birthday. He even threw in a card professing his love 🙂


[5/26 – 3:08pm] Drinking in public? Hey, in downtown Savannah, no problem.
The trip was a blast! Much thanks to everyone who made it possible — to Heidi, all the tourney volunteers, and especially to John who drove me up and took care of the condo arrangements. I'm totally going again next year. 😀