Happy Mother's Day to all the mom's out there! I love you mom!
I had something ridiculously awesome happen to me at the Goodwill the other day. *beat*
First a little backstory. Back at the end of high school and first year university, I used to go out to a coffee shop in downtown Victoria called simply Java. My friend Ryan and I would go on Sunday nights, when they had an ambient electronic music night called Zero G. It was dark inside, and we'd get over-caffeinated on mochas & sugar and discuss science & politics & philosophy and current events and whatever else was going on. It was awesome.
One of those nights, I happened to really like a track that was playing, so I went up and asked the DJ who it was. He said Speedy J. One night some months later, after listening to my school's student radio, CFUV, late at night, I heard another track I liked, and called the station to ask who it was, and, lo, Speedy J again. The track was called The FUN Equations. I diligently wrote this down.
Download: The FUN Equations [6.6mb]
One year later, I discovered his album, G Spot, at the Sam the Record Man in the Eaton Center. On a side note, I have to give Sam's props; for a chain, they sure had some interesting inventory. I purchased G Spot, and loved it. It was an introverted, experimental techno album, and it had FUN on it.
Fast-forward 15 years to present day. In the past two months I've discovered Speedy J is still active; he's got an updated website & he is on teh YouTube.
So it was quite a thrill to find an album from him, "Ginger", at Goodwill for $1.75, buried amongst discarded Christmas music CDs. Even greater for the fact that I'd never heard of it, AND it was in mint condition. I've just spent the past hour listening to it, and I all I can say is, I'm thrilled. Takes me right back to my days at Java.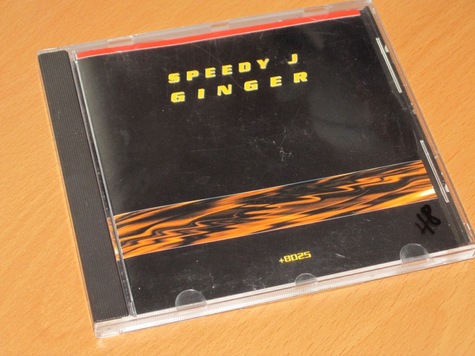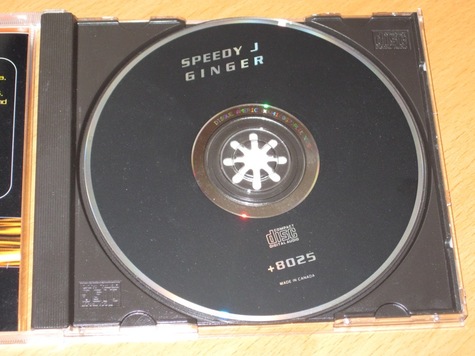 …
Speedy J's biography, courtesy NME:
[ Speedy J (born Jochem George Paap in 1969, Rotterdam ), is a Dutch techno producer based in the city of Rotterdam. His breakthrough came with the release in 1992 of the minimal techno track Pullover. Subsequently his material became more mellow as he moved away from the hardcore sounds that were then becoming popular in Belgium and the Netherlands.
His debut album Ginger (1993) was released on Richie Hawtin's Plus 8 record label in the US, while in the UK it was part of Warp Records' Artificial Intelligence series of electronic listening music. A further, more introspective release, G-Spot followed in 1995; a live album, !ive, was also released. Afterwards his work, which included Public Energy No.1 (1997) and A Shocking Hobby (2000) became more experimental, importantly influencing the development of what is known as "intelligent techno".
"Upon first impressions, Public Energy No.1 highlights a big departure from previous Speedy J offerings… in a complete role reversal, it enters upon an iconoclastic electro territory more familiar to admirers of such other purveyors as Autechre, the Aphex Twin, Mike Paradinas and Martin Damm in his Steel persona," wrote Andrez Bergen in 1998 for Australian magazine Inpress.
The album Loudboxer (2002) saw a return to a more minimal four to the floor style of techno.
He collaborated with Mike Paradinas on the project Slag Boom Van Loon, through which they have released two CDs on Paradinas's record label, Planet Mu. In 1999, he also released two ambient albums for the FAX +49-69/450464 label under his real name.
In 2008, he released his sound library/audio software, entitled Kreate by Jochem Paap. KREATE is released by Fixed Noise.