So disc golf yesterday was a ton of fun. I really need to play more often. Definitely one of the more laid-back fun sports I've ever played. Think traditional golf, except played with specialized "driver" and "putter" frisbees (smaller, harder and fly further than the 175g Ultrastars used in Ultimate). It was myself, Helen, Mankow (John) and Goof (Cheri).
Before we started, we decided to play teams and that, for each of the 18 holes, we'd sum the strokes for each player on the team to determine the "winner of the hole". Our ante was certainly a motivator: at the end of the course, the difference between the number of won-holes for each team would be the number of beers owed!
The teams were Mankow and myself, Helen and Goof. Guys vs. girls as it were. That's Goof in the foreground.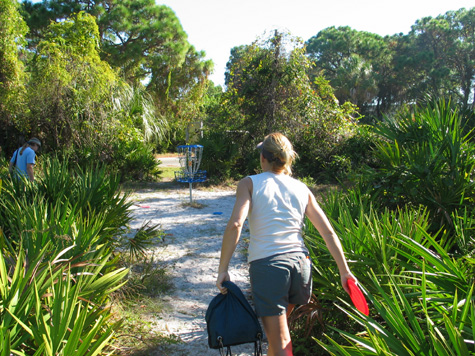 10:30am
Mankow and I got off to a quick lead, so the girls owed us a beer pretty much right off the bat. Mankow started the heckling and we went up another point, and then another. Helen and Goof clawed their way back to make the count even before we got to the bottom nine.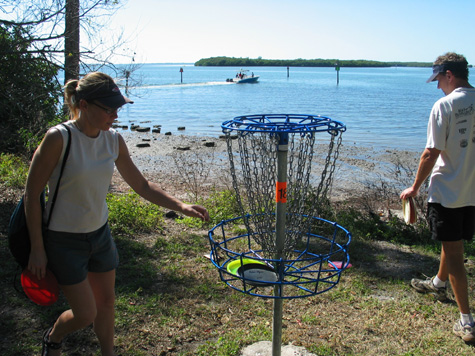 But Mankow and I owned the second half, taking the next 9 holes straight. Near the end we offered the girls several opportunities to even up the count — even double or nothing for their entire loss — but they didn't take us up on it. So now Mankow and I were owed 5 beverages each. Hee!
After the game, Mankow invited me to come over to his place for Thanksgiving dinner. But drinks were getting started at half past four and it was only half past noon (and it was a 90 minute round trip to my house), so Helen suggested I hang out at the beach near her place. A most-excellent suggestion.
But man. It was 27 celcius out and I was in shorts getting sunburnt; although Christmas is coming, it sure doesn't feel like it (though some folks at the beach were doing their best to help):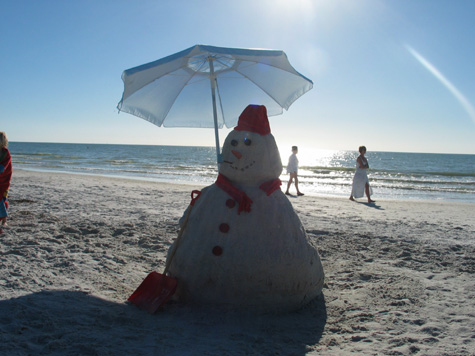 After hanging out on the beach for a couple hours, Helen and I made our way over to Mankow and Ivee's place, where we enjoyed a unique appetizer of Mankow's creation: figs, stuffed with with goat cheese and wrapped in prosciutto. So yummy! (I didn't even know I liked figs!) We washed it down with Alberto No. 1, a crushed mint-vodka-lime-champagne cocktail.


But that wasn't the end of it! While I was enjoying my Alberto No. 1 in the living room, Mankow brought out another appetizer tray, containing carrots, a sundried-tomato-goat cheese mix, chipotle cream-cheese (made by Ivee), garlic butter, tapponade (crushed black olives) and caramelized onions. There were also sliced olive and cheddar baguettes, grapes, sliced pepperoni, sliced cheeses, grapes and 10 different kinds nuts Ivee roasted over the past few days! Talk about getting spoiled!


Dinner was served buffet style — there just simply wasn't enough room on the table for it all! Everything was really delicious, almost as tasty as Mom's. 🙂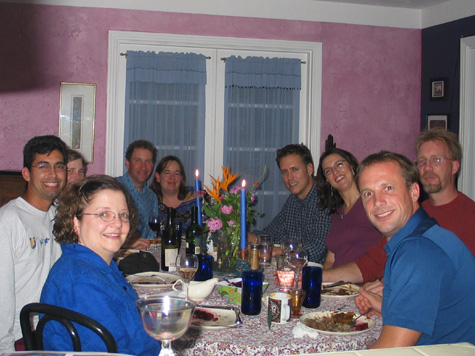 Clockwise from front-left: Brenda, Me, Helen, Mankow, Ivee, Doug, Michelle, Steve, and Eric. (Not shown but also present that night: Goof, Josh, Sidney, Josh and Sid's kids, Helen's parents, Paul).
We invented a form of Balderdash that night too, which was a lot of fun. Our version involved one person choosing an obscure word from the dictionary, and the rest of the group trying to come up with the most convincing definition. The person whose definition gets the most votes for being correct gets a point. Lots of fun, competition for the best poker face 🙂 Learned a few words that night: "escape wheel", "hyrax", "quoin", "manqué", and a noun whose name eludes me at the moment which means "nonsense language without meaning".


We played until about quarter-past two, at which point Ivee offered for everyone to take home leftovers. Have I mentioned how lucky I am yet?