(reloading the page, that is 🙂
Wow, it's been a busy week. I'll try and run down the key events.

Tuesday Darren had Cam, Melissa, Joe and I over for what I thought was going to be a games night — and ended up being a birthday party for Cam and I! We watched several Canadian hockey championships on DVD (including highlights of the 1991 Canada Cup), played bobbleheads "half-court" hockey on the PS2, and the whole time Darren spoiled Cam and I with as much pizza and Blue as we could handle. It was great. Thanks Darren.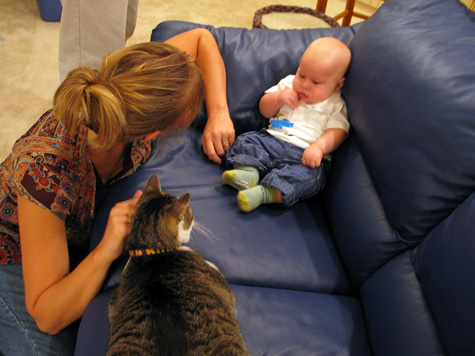 Joe examines Juliet at Darren's
Wednesday night I didn't get up to much — apart from getting a good night's rest. This would prove very handy as Thursday I drove to Orlando and back for work, a total of four hours at 80+ mph (128+ km/hr). The Ford minivan I drove (Windstar? Freestar? I'm not quite sure which it was) was a quiet ride, though, lamentably, while it had the buttons on the steering wheel, it didn't actually have cruise control. Grr.
Friday was Melissa's birthday, so Inês, Cam and I spent the afternoon driving around picking up snacks and dinner and the like for her party. We ended up getting Thai for dinner, and boy was it tasty. I had their "amazing duck", which is fried duck strips in a peanut sauce, served over white rice and brocolli/carrots. So tasty. We watched Sense and Sensibility, which is one of Melissa's favorite movies, and which Cam had given her as a present. I gotta say, I was pleasantly surprised. Though often sappy, "Sense" has a fair amount of wry British humor in it, which some of you might know I'm partial to (and which Hugh Grant seems born to, um, deliver):
Edward Ferrars: I hope I find you all well.
Marianne: Thank you, Edward, we are all very well.
Margaret: We've been enjoying very fine weather.
[Marianne nudges her]
Margaret: Well, we have.
Edward Ferrars: I'm glad to hear it. The roads were very… dry.
Saturday Cam, Melissa, Inês and I went for breakfast at a restaurant downtown, "First Watch".


Push that stroller! Walking to First Watch downtown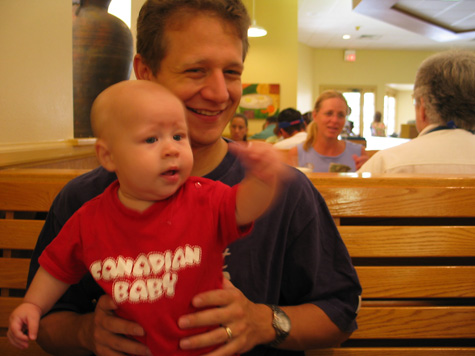 Cam and Joe in First Watch
Seems like a nice place to go for breakfast — I had Belgian waffles with strawberries, blueberry sauce, melted butter and syrup on top. 🙂
Afterwards, we perused the downtown Famer's Market, which was really neat, because I'm not usually out early enough on Saturdays to catch it. Here's Inês and I:


Later on Saturday, we held a small going-away barbecue for Inês down by the pool. Allison, Jeff and Yawen were able to make it (as well as Cam and Melissa, too, of course). It was quite the feast: we had chips, soda, corn, roast potatoes, chicken, shish-kabobs, and melons of the honeydew- and water- varieties. And of course a cooler full of Blue. Fun times were had by all.


Me at Inês' going away party


Cam at Inês' going away party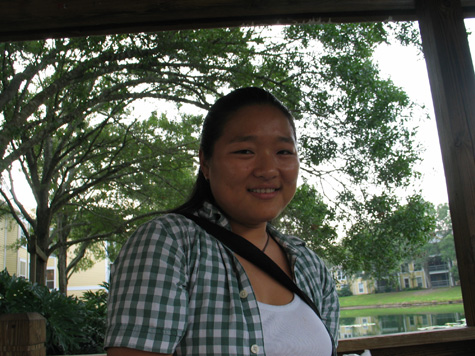 Yawen at Inês' going away party


Inês! 🙂
That night, the girls did the girls-night-out thing: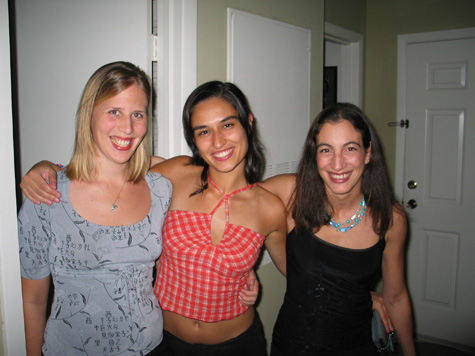 Los tres amigas РMelissa, In̻s, Allison
Cam and I, meanwhile, had a philosophical discussion inspired by Firefly. That was a lot of fun, I may get into it on another post.
Time to burn off some of those calories (and test out my left big toe, which I hyperextended two weeks ago while playing Ultimate barefoot in the rain. Not recommended!).
Enjoy the rest of your weekend!
Music – "DJ Z-Trip and DJ P – Uneasy Listening, Volume 1" – MP3