So the first tropical storm of the season for Sarasota & Bradenton residents is on its way, and it's got the name "Fay". First heard about it on the 11pm news Saturday night, and have been tracking its progress since. It's gone over Cuba already and is now just West and a little North of the Florida Keys, heading due North at about 9 mph, with sustained winds of 60 mph and gusts higher.
Here's a look at the storm projection, from 11am this morning through 8pm. Note that during that time the storm has gone from hurricane to tropical storm status at the point of landfall (note the little letters in circles… "H" means hurricane-class winds, "S" means tropical storm winds).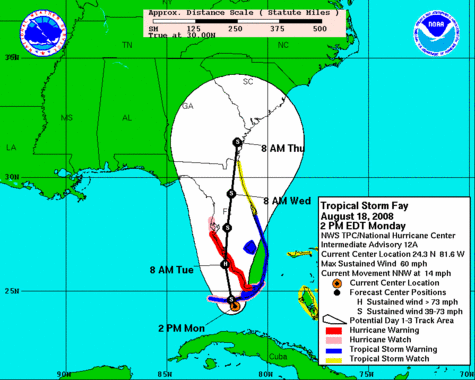 Got some neat photos tonight– the clouds were very unusual looking, due to the first bands from the storm starting to make their way through. But they'll have to wait until tomorrow (sorry) as I forgot my card reader and I'm taking refuge up at Joy's for the night 🙂
More updates as things develop!
Update, 12:36am:
Alls quiet on the home front. Eerily quiet. Here's the new storm path prediction.. not much new there.


And here's a new radar image:


Hmm. Not much different there either… well, just about bed time… we'll see what the morning brings. In the meantime you can keep up with the latest at the NOAA watch page.
Update, 10:26am:
Things are starting to pick up a little. It's bright outside but completely overcast, and the trees are getting blown around a bit but nothing too unusual.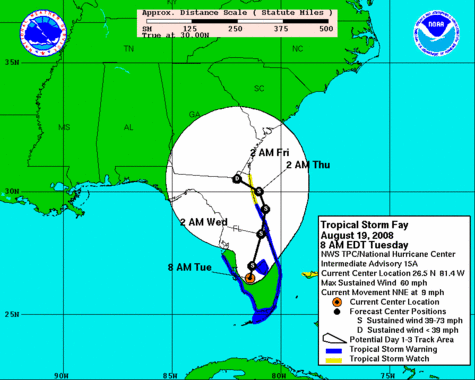 Man, that's one slow-moving storm. Thank goodness the wind speeds are as slow as they are.
Update, 1:21pm:
The skies have darkened a bit and the gusts are stronger, but it's still nothing too out of the ordinary. Here's something interesting… the NOAA have an experimental podcast now. Noon audio report on Fay.
Here's the latest tracker projection and radar image. As you can see in the projection, it's looking like Fay is going to continue to head in an eastern direction.


Update, 5:15pm:
It's windy and overcast, but amazingly, no rain has dropped! Heh. Looks like we made it through this one largely unscathed… yay. One interesting thing about this particular storm is that it strengthened over land, which is rare… they usually either stay the same or diminish. ABC Action News has a slideshow of Fay pictures.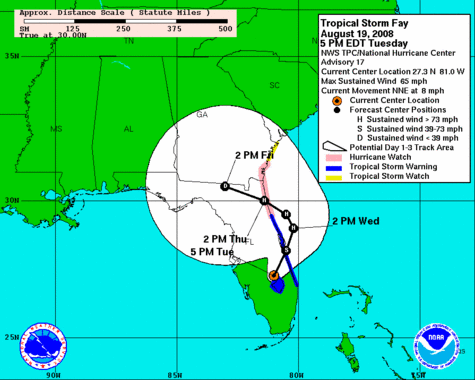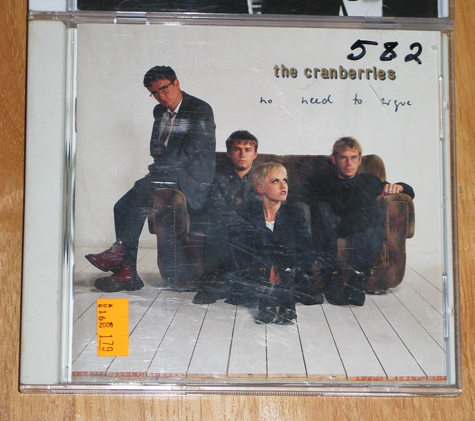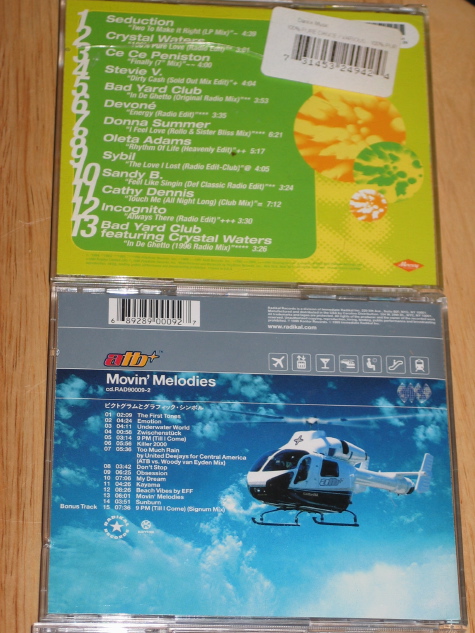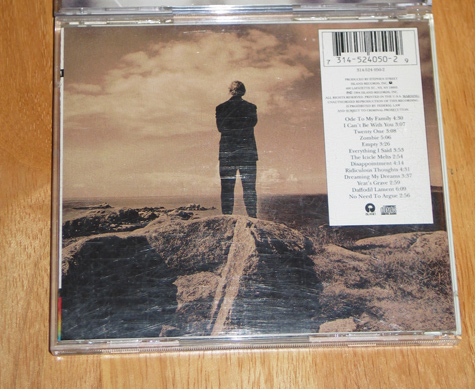 Grand total: 7 CDs, $14.74 🙂