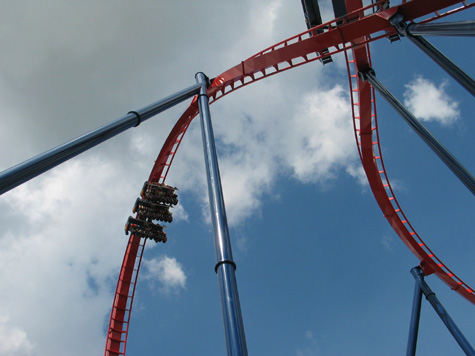 Went to the rollercoaster park Busch Gardens with Darren, Eric, Angela and Kelli two Sundays ago — what a blast. It's been a long time since I've been on a coaster. If there's anything I learned from the experience, it's to put my camera in a locker BEFORE getting on. I almost lost it around a couple of bends of the Gwazi. 🙂 Pictured above is a shot of the brand new ride, the SheiKra, which features a near vertical drop. From its webpage:
SheiKra carries riders up 200 feet at 45 degrees, then hurtles them 70 mph back toward the ground at a 90-degree angle. It is the first coaster of its kind in the Americas and only the third in the world.
SheiKra is the first dive coaster to incorporate an Immelmann loop, a water feature, and a second 90-degree 138-foot drop through an underground tunnel. SheiKra also includes a 360-degree climbing carousel. 3,188 feet of steel track offers a total ride time of just over three minutes. You must be 54 inches tall to ride SheiKra and other safety restrictions may apply.
View the Gallery here.