Update, Fri, Nov 5th, 10:07pm EST: Alright, the videos should be back online! Let me know how things go, esp if transfer speeds are better/worse or if I'm over my bandwidth quota. 🙂 –K

Dialup connections, beware! This is a huge page, be sure you've got a coffee handy if you choose to click that "MORE…" link. Onward!

My best scowl 🙂 Sat morning, getting ready for the big day.


8am Saturday. I had just arrived a few minutes before. That the volunteer coordinator Shiellah in the baseball cap. She flew down from Montreal, and organized the volunteers via email before the tournament. On the left is fellow volunteer Paul Stone, who is a teacher and promotes Ultimate at a local high school.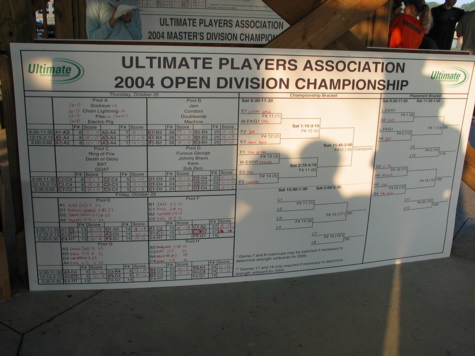 The tournament ladder for the Open (men's) division — sixteen of the country's best men's teams were set to compete.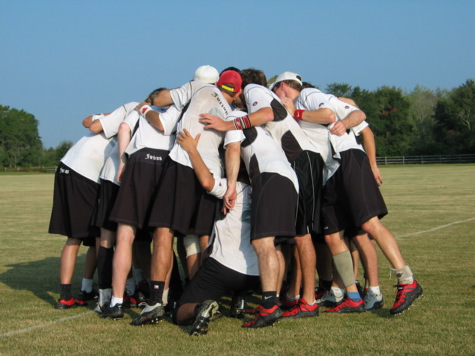 The winners of the men's division for the past two years, Furious George from Vancouver discusses strategy.


This is the masters (everyone is 33+) game Darren and I used to test out our stats-taking abilities. "KWA333" stands for Keg Workers Of America, Local 333, out of Seattle. "Old" is out of Boulder Colorado.


Free beer! Darren + I get some.


Helen pours us some of the Good Stuff.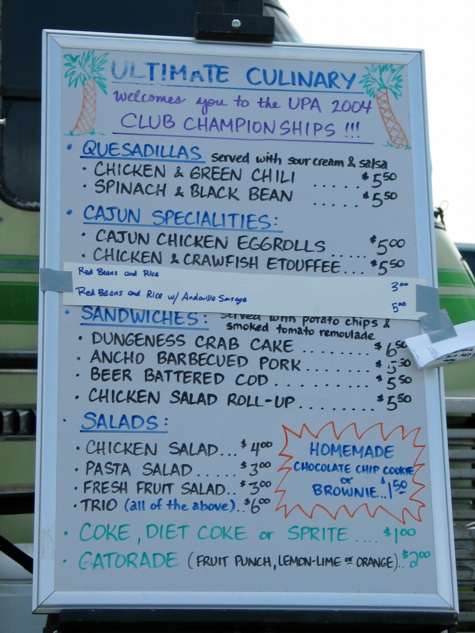 The Ultimate Culinary. Mmm, tasty, high-protein stuff.


As a volunteer I got my lunch free! This is the chicken and green chili quesadilla.
A group of 40 or so people from the audience were playing practical jokes on passersby by booing people who picked up dollar bills which were planted on the ground. The idea was if they walked away with the dollar, even after all the booing, they could keep it. Well, this guy made a fool of them all! (4.4 MB)


That's Samantha in the orange shorts — another local player volunteering (actually, she's from St. Pete, about an hour's drive North). She worked the information desk on Saturday and Sunday.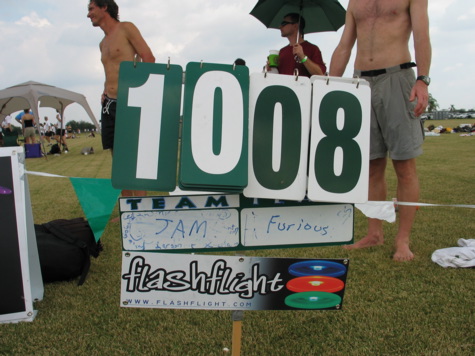 San Francisco's "Jam" leads Furious during a quarter final game Saturday morning.
Awesome fake by Furious player sends a Jam team member diving in the wrong direction (I've gotta try that sometime) — leading to an endzone near-miss (3.9 MB)
Jam uses a hammer (upside-down throw) to get themselves out of the Furious endzone, followed by a series of nice passes (6.8 MB)
After a quick fake, a pass to #12 Al Nichols of Furious makes a gigantic curvy forehand that crosses the entire width of the field for a score. (3.3 MB)
Jam's mascot (2.5 MB)


3:11pm. A victorious San Francisco Jam shakes the hand of the now-knocked out Furious.


My friends (L to R) Darren, Gustafson and Angela.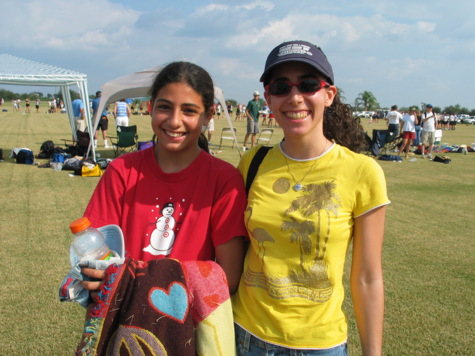 That's a teammate of mine, Jennifer, on the right, her sister Michelle on the left. They drove up from Venice (45 mins away) to take in some of the action.


The Jam mascot finds a helper.
This clip of the masters finals match between KAVU (in the light-coloured shirts, from Ketchum, Idaho — what better name for an Ultimate town?) and Old and In The Way shows off both offensive and defensive layouts — getting horizontal for the plastic. (4.2 MB)
An entire point from the Kavu-Old game. Shows several great passes and a big huck to finish the point. (6.7 MB)


6:18pm — the sun ducks out behind the clouds.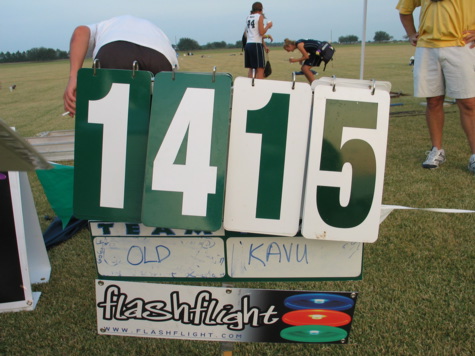 Final score for the masters final game.


Oh my, what have we found here?
Why it's the frisbee version of quarters, of course. Note: treating a disc like this is illegal some states. (6.1 MB)


Sunday morning, early!! It's 9am and Chris and I are in the golf cart, waiting for the Women's final — between Vancouver's Prime and Seattle's Riot — to begin.


Riot had the lead early on; Michelle Ning (#3) of Prime put in a nice break pass to Dunn for the score and it's tied, 3-3.


9:23am. A group of cyclists stops by to take in the game.
A big huck followed by a perfectly timed forehand lob gives Riot a goal (3.2 MB)
10:01am. Cussen (#27) hits Halmos (#6) on a huck, who throws an away pass to Scott (#21) for a Riot score. 8-6 Riot. (3.2 MB)


10:30am. An up-close look at Prime strategizing during halftime; they're down by one point, 8-9.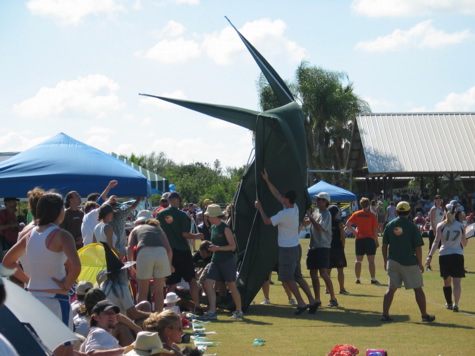 10:41am. Volunteers and fellow spectators help retrieve a tent which has blown onto the field.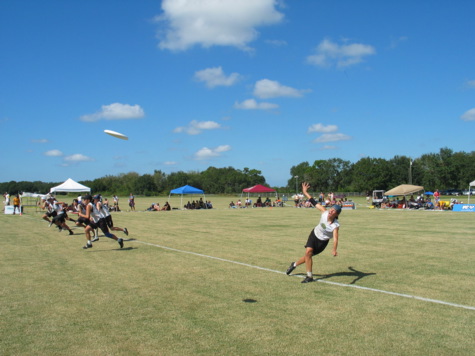 11am. A gigantic pull by Prime's Val Dion (that's an Expos hat she's got on backwards!) after finally breaking a five-point scoring streak by Riot.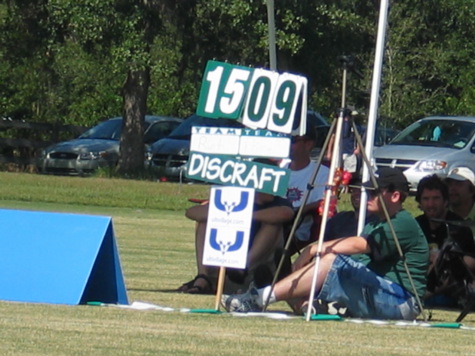 Riot would score again, though, making it 15-9 in their favour.
Some unzoomed video, gives a good idea of the dimensions of the playing area. Where'd that disc come from? Also features an observer (orange shirt) making an "good pull" call (4.2 MB)
Prime would go on to score 3 more points, but it wouldn't be enough, and Riot went on to win the Women's club championship 17-12.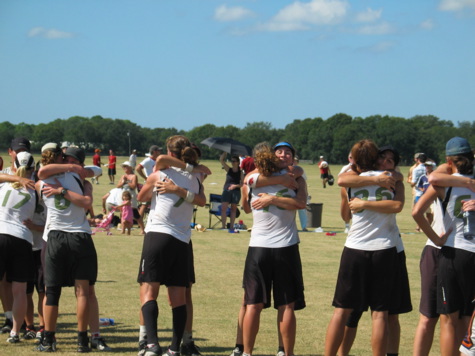 Everyone grab a partner! 🙂 Prime teammates exchange hugs after four hot days of tournament play comes to an end.


The Prime-Riot handshake line moved slowly as hugs and congratulations were given all around.


Prime post-game huddle, external.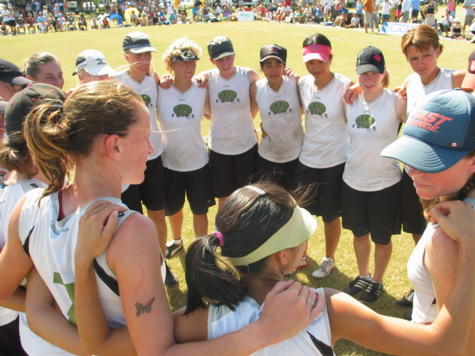 Prime post-game huddle, internal.


Vida Towne of Riot (second from the left) wins the inaugural Kathy Pufahl Spirit Award. Anja Christine Haman of Prime is also shown on the right.


Two children fight over the Ultimate equivalent to the Stanley Cup.


The women's divsion champs, Seattle Riot, form a welcoming corridor for runners-up Vancouver Prime during the awards ceremony (9 minutes after the end of the game).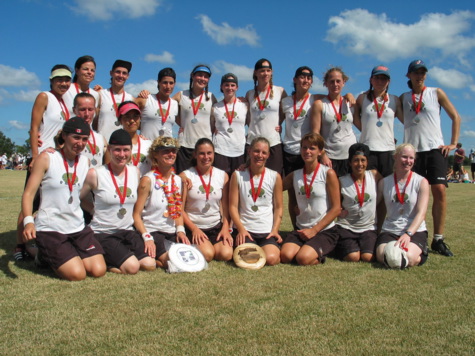 I snuck in there with all the bigwig photographers during the ceremony to get a shot of Prime.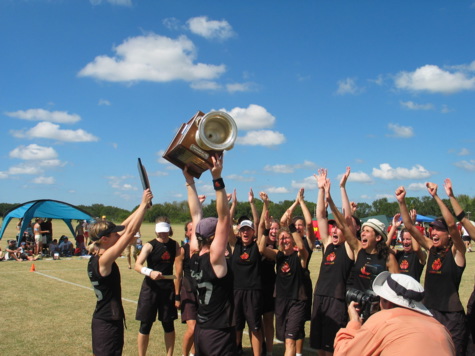 #27 Deb Cussen (The Posterizer) holds up the Club Championship cup; Riot celebrates.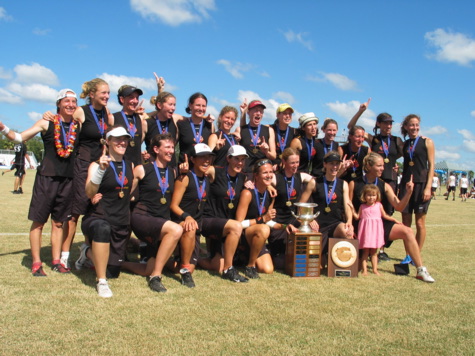 Riot award ceremony team photo.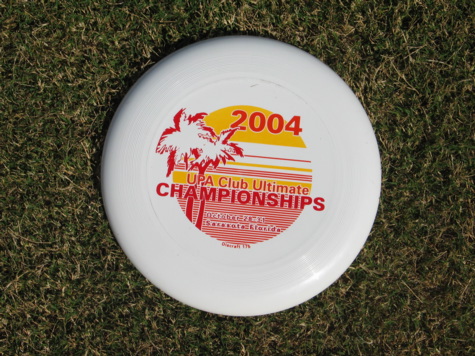 The official 2004 UPA Club Ultimate Championships disc. I bought this, along with a corresponding black one, during the tournament. Few discs are sacred for me, though — what's the point of buying it if you're not going to use it? Cam, Darren, George and I threw it around between games.


I spotted Prime back at their "base camp" along the sidelines, long after their game was over, snapping photos. So I jumped right in there and took a couple of my own. There were a coupla players I hadn't seen during the game too! Guess they were flat. 😉


There was a non-Canuck playing with Prime during the tournament; they awarded her a Canadian backpack.
Riding in the golfcart! Chris sheepishly admitting to backfiring while Paul smirks (1.4 MB)


Onto the Open finals! Didn't take nearly as many pictures this time around, because Chris and I were back into full-on volunteer mode. Suffice to say it was a very close game.
Chase Sparling (#86) catches a big hammer to win the Open Championship for Seattle Sockeye. (12.3 MB)


Damien Scott of San Francisco Jam (right) wins the third annual Peter Farricker Spirit of the Game Award.


Jam award ceremony team photo.


Seattle Sockeye award ceremony team photo.


Go ahead, jump! Jump! This time it's the Mixed (men and women) final, The Chad Larson Experience (CLX) vs Seattle Shazam. A Shazam player makes a mid-air catch.


Yet another Extremely Close Match.
Shazam receives and gets it to Kraus, who throws a big one to Finn. Game point, Shazam. (4.6 MB)
But CLX would come back to tie it 16-all, throwing the game into overtime (win by two).
A gorgeous hammer puts Shazam back in the lead, 17-16. (14 MB)
Another Shazam-CLX point, featuring a layout D-attempt by CLX, a big defensive tip which sends the disc flying, followed by a throw away by Shazam which is almost recovered by yet another layout! Someone call Superman, they're going ho in the finals. (10.8 MB)
The winning point by Shazam. (7.3 MB)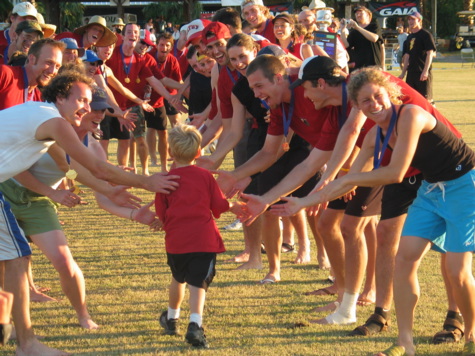 A child runs through the all-Seattle winner's corridor.
The atmosphere on the field immediately after the Shazam win made it an all-Seattle Sunday. (5.6 MB)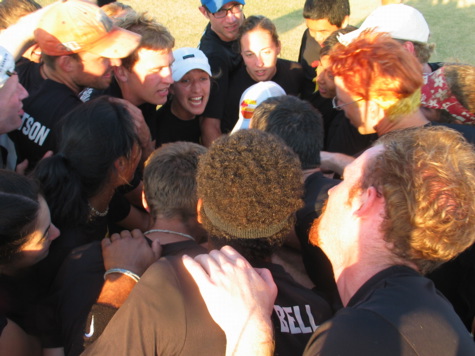 Up close and personal with the Shazam team cheer.
Boat race time! (12.7 MB)


A smiling female CLX player bleeds from both legs after the game.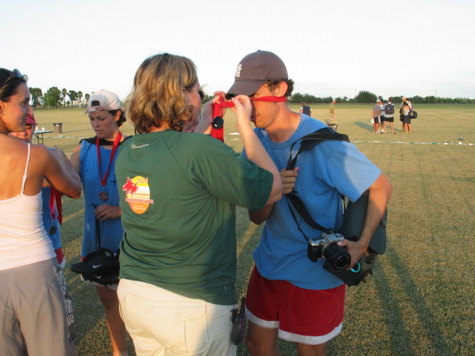 A CLX player receives his medal from head scorekeeper Elizabeth Murray.


CLX award ceremony team photo.
(2004 UPA Club Championships Competition Director) Dave Raflo presents Shazam with their award (8.3 MB)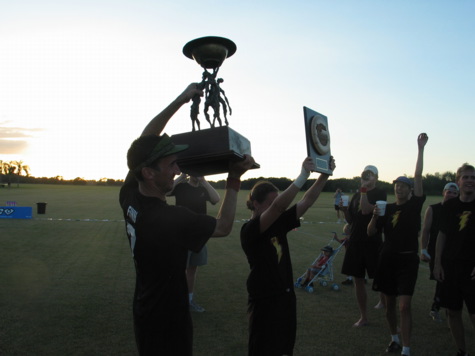 Shazam captains present the award to the team.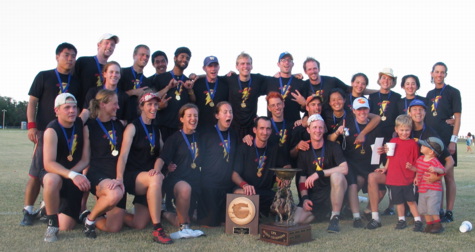 Shazam award ceremony team photo.


Shazam award ceremony team photo, detail.
Say cheese! Shazam strikes a pose (3.4 MB)
CLX presents Shazam with an honorary pair of their shorts (6 MB).
General madness ensues as the winners of all three divisions — Open (Men's), Women's, and Mixed — got together for a group photo (1.4 MB)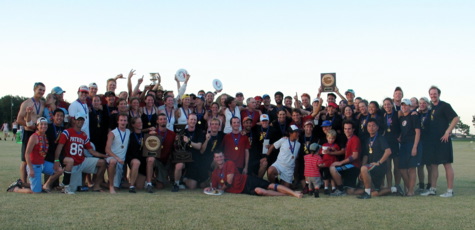 Sockeye, Shazam and Riot group photo.


That's all folks! Sarasota local volunteer Joe Brenner takes down the scoreboards.


Another beautiful Sarasota sunset. Photo by Cam.


The VC Ultimate crew heads home…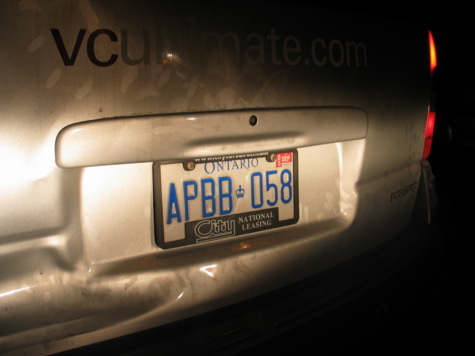 …all the way to Ontario!


At the volunteer dinner.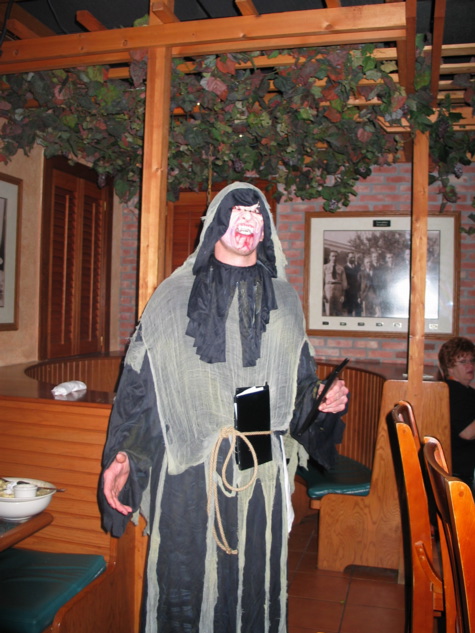 Our server.


Our restaurant.


And all my goodies from the tournament!