So I took a trip to the Main Street bookstore last night, with the intention of picking up a book by noted celebrity financial consultant Suze Orman. I had never heard of Orman before Zameer [website down at time of writing] mentioned her name over MSN Messenger, and I exclaimed, "Who?!"
The book, entitled "The Money Book for the Young, Fabulous and Broke", promised financial advice for high-priced-coffee drinkers in their 20s to mid-30s. "Perfect," said I. "That's me."
Except, it wasn't. Flipping to the table of contents, as the back cover implores, I discovered a large portion of the book was devoted to how to get yourself out of debt and pay your rent AND credit card bills. Which would be fine, except I'm not in debt, have no trouble paying my rent, and I don't have a credit card. I just want some solid advice on how to do something reasonably intelligent with the money I'm saving. There were a few chapters I was interested in: notably, those about 401K (retirement) plans and why sometimes a Rothman IRA is a better idea, but — perhaps somewhat ironically — I couldn't justify the $24.95 I'd have to fork out to take the book home with me. Maybe it's available at the library.
I went to the back of the store — the business section — to see if I could find anything else by her. I found "Suze Orman's Financial Guidebook: Put the 9 Steps to Work", but could not find the book to which it was a companion: "The 9 Steps to Financial Freedom". And although the Guidebook was cheaper than "Young, Fabulous and Broke", it didn't seem to stand too well on its own. There was a third book by Orman available: "The Courage to Be Rich : The Financial and Emotional Pathways to Material and Spiritual Abundance". And although the back cover sounded like a book I should want to purchase, I just couldn't get over the title. The courage to be rich?! Courage? Being rich isn't the be-all and end-all of my existence. I just want to know how to do something relatively non-dumb with my money. Keeping it in zero-interest chequing? Dumb.
I didn't leave the store empty handed though. For whatever reason, also in the business section, a couple books over, was Don Norman's "The Design of Everyday Things" — one of the few books I can say I've read and loved every word of; I read it for a software engineering class as part of my Computer Science undergrad. Of course — being a cash-strapped student — I sold it to a classmate the minute the course was over. Heh. But I think "Design" is an excellent read for anyone involved in designing anything someone is eventually going to ACTUALLY use — be it a piece of software, a car's dash, a door handle, whatever. "Design" covers all sorts of stupidity you encounter in everyday life, WHY these things are stupid, and attempts to motivate a better way through user-centered design.
I think the cover pretty much gets right to the point.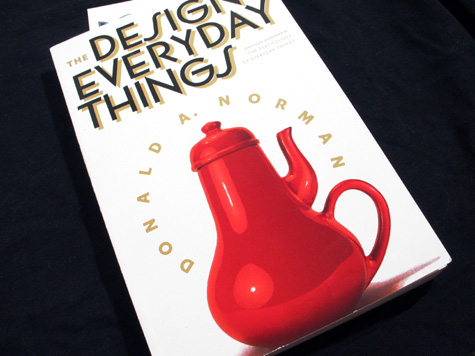 Seen any stupid design lately?