So my monitor backlight problem came back last night, just as I was sitting down to watch Bruce Almighty (starring Jim Carrey as god). The timing is particularly crummy because I don't have enough time to drop it off for service before my flight to Victoria early Wednesday morning.
By the way, if you've tried to contact me via email in the past two weeks or so and I haven't written you back, I'm sorry! I've been really swamped, I'm going to be trying to write everyone back tonight (but if I don't, please drop me a line to remind me!). Also tonight: wrapping presents 🙂
Finally, yesterday, I bought my car a Christmas present — a new pair of shoes! The car feels more responsive now…. quieter too.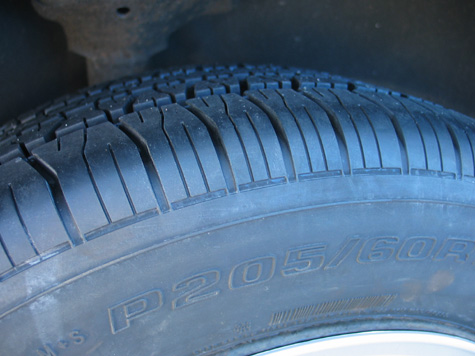 The sad part was that the mechanic told me my left rear rim is warped, so I'm going to have to get that replaced at some point. Question for my mechanically-inclined readers: the mechanic said it could have been caused by an improperly tightened lugnut, does that make sense?