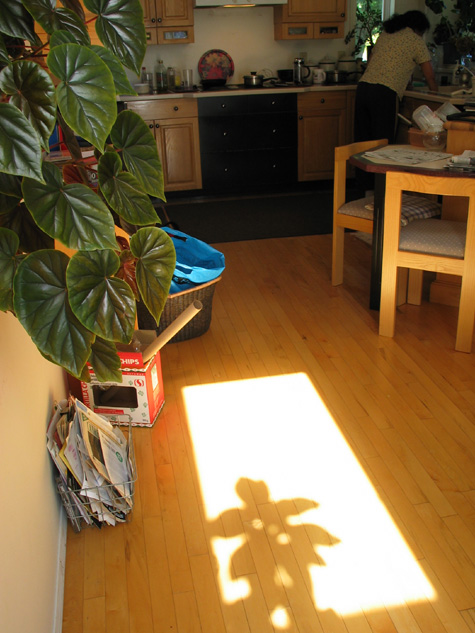 Well! Had my first dental cleaning Monday morning. Boy, was that painful. Probably the first time I've had a cleaning in 3 or 4 years.
But, it was a good pain, you know? And they even "polished" my teeth, something I've never had done in all my years going to the dentist. Basically sandblasted my teeth with some kind of baking soda mixture? I think that's what it was. Very quick, maybe 20 seconds to do my entire mouth. Neat.
And so far, I've been a good boy; I've brushed, flossed and brushed/rinsed with Periodent (prescription mouthwash for which there's amazingly little on the web [Update: That would be because it's called PerioMed, but there's not a lot on it, either…]) each night. That's a whole two times! Only three months to go till my next checkup! 🙂
I can already feel my gums improving. Now I just need to drop the $39 on a Waterpik.
Today's picture is of my parents' kitchen back in Victoria — that's Mom in the background. The shot was taken back on Labour Day weekend when I came down to take in the Hybrid show Davin opened. Ah, good times.