So.. the Superbowl game was actually close. 24-21, New England Patriots over the Philadephia Eagles. Not being a fan of either team, at least that made the night interesting.
But the commercials — oh the commercials. IFILM has 'em.
Let me rank my favorites — the ones I think are most memorable. Now, we've already talked about them at work, so I can't claim the order I list is completely unbiased… Out of all the commercials I saw last night (and without visiting the IFILM page to jog my memory), these were my favorites:
Guy jumping out of plane after beer (Miller lite?) [as it turns out, this was a Bud, not Miller ad: "Bud Light: Parachuting"]
Career Builder.com ("Sir, I just don't think it's a good idea to name a product 'The Titantic'") [CareerBuilder.com: Kissing Monkey Butt]
Cat Killer [Ameriquest: Cat Killer]
Chevrolet design studio [apparently, this wasn't even a Superbowl ad — not sure it's Chevy, but it's the one where a guy in a design studio throws out drawings of prototyped cars, and the ad cuts to a field where half-designed cars are plummeting out of the sky]
Toyota Hybrids [Toyota Hybrid: Get Moving]
Okay, now that I've gone back to find the real names for each of these, the IFILM pages has jogged my memory some.. here's a few more that were great:
Ford Mustang – Frozen in Fargo
GoDaddy.com: Strapless
Michelob: Rich and Smooth
Update, 1:22pm
: Here's
another link to the commercials
, if the first one doesn't work for you.
Update, 12:40am 2/9
: Here's a few shots of the party, courtesy Darren's Dad:
The kick is good!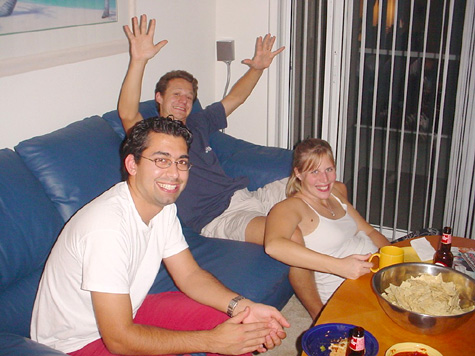 Food coma: