[No, i haven't fallen of the edge of the earth. So much has happened in the past week! This entry was written partly when I dead tired last night, partly this morning, so if there are errors, please be forgiving. I've got a new domain name! Or rather, Davin, my gracious host, has a new domain. The new address is "http://davin.ws/krishenblog". Nice and short. The old "dhs.org" address will be going away at some point in the future. Update your bookmarks!]
First, last Thursday my iSight webcam came in! This is huge news for my Mac-using friends — basically all you need is iChatAV and either an iSight webcam from Apple, or any DV-based video camera, and we'll be video-conferencing. The quality is first rate. But rather than describe it, I'll let a professional do the talking. All you Mac users out there with a digital video-based video camera and/or an iSight, add me to your iChatAV buddy list either under the AIM id "asterizk" or the mac.com address "asterizk at macDOTcom".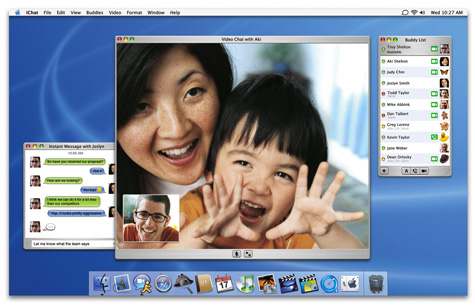 Friday was our director of New Business Development — Ron C's — birthday, what a blast. Started the evening with the much-vaunted swivel-chair derby around the plant, which Ron won handily. Mark got some great pics of the event courtesy of Jeff's camera, I'll see if I can obtain a few. [Update: got the pics!]


in preparation for the corners ahead, we lower our chairs…


and they're off!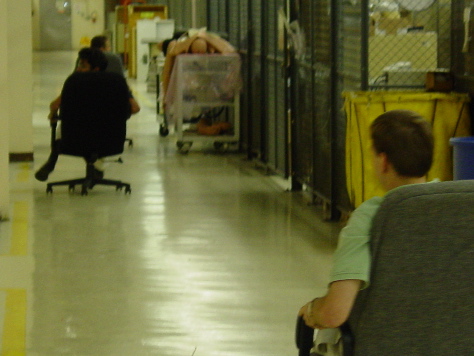 Ron crossed the finish line first, then me, then Cam, with Jeff bringing up the rear.
Afterwards we headed on down to the Paddy Wagon pub and had a grand ol' time.
Saturday was the Orlando Hurricane Hat Tournament, which I went to with Alec and Eric. My team won! It was fantastic, though, since we won it meant I was playing the maximum number of games possible (six I think, with nearly all of them hitting their 75-minute time cap). So that adds up to… a lot of running. I didn't sprain anything either!!! Must be because I'm in shape or something. Hah…. yeah, that's it.
Saturday night was spent in Orlando at a hotel I booked for the three of us via priceline.com. Two-star hotel, $39 for the night! That included a pool and a full continental breakfast. My only complaint would be that it took forever to check out — the staff were no-where to be seen at 9:30am on Sunday morning.
Ah yes, before I get any further I should mention that I also broke my year-long petition against eating at McDonald's on Saturday. Basically, the reasoning was as follows: the petition really doesn't make a lot of sense, since I'll readily eat at Wendy's, Burger King and Checkers. So singling out McDonald's seemed kind of silly. To break my fast-food-fast I had an Egg-McMuffin meal. Apparently the McDonald's down here also have five or six different kinds of salad, so if I find myself in that spot again, I'll have to check them out. Strange how we didn't have all the different salads up in Victoria. But then again, the local restaurants probably have that market covered, and besides, we had McPizzas. 🙂
Sunday I returned Cam & Melissa's monkey — the stuffed one I borrowed for the Savannah hat tourney waaay back in July.


Let it be known that I feel bad about temporarily losing Cam & Melissa's monkey. I'm sure they coped somehow though. 🙂
Sunday night saw Cam, Melissa and I down at Long Boat key, where we watched the sun set.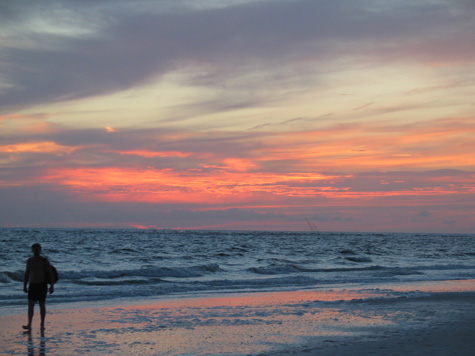 Later, we indulged in delicious gelato at Settimi's in St. Armand's Circle. Fantastic stuff. Cam & Melissa, thank-you for the recommendation, I'm definitely going back.


We'd only stopped licking for a few seconds!
Monday through yesterday has largely been work-related, with me pushing the process of gathering our requirements for our next software release. I'm counting on my manager's ability to determine the scope of the release, since there's waay more work than resources. For each potential development task that could go in the next release, I've given time estimates, even though (a) I'm not familiar with the code being modified and (b) there's no documentation for it. So it's a bit of guessing game, but at least it's an attempt at keeping expectations realistic. Each task also has two sets of priorities, one from the software group's point-of-view (how hard is it to implement, what is our [naive] view of the benefit to the user?) and from our Education & Training dept's point-of-view.
Cam & Melissa took off early yesterday morning for Vancouver for the wedding of an old ex-coworker of mine, Byron. (Those of you in Victoria may remember I used to work with him at the UVic Clearihue Computing Facility with him.) After the wedding, Melissa will be staying in Vancouver for a little bit of time in order to become gainfully employed and earn a little cash on the side. As part of the going-away festivities, we of course had a few people over to the pool for a little Tostitos and Beer action. It was Ron, Jeff, Cam, Melissa, myself, John H, Hugo and a little later on in the night, Kim P. She'd end up jumping in the pool: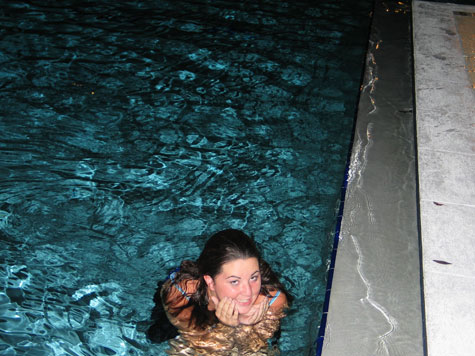 That wrapped up shortly after midnight, and, surprisingly, I had only a minimal hangover in the morning. That, of course, didn't prevent me from being tired as fcuk.
Last night I went to Ultimate practice — my first game since last Saturday's multi-hour marathon. We played a very short game of 4×4 pickup (my team got it's arse whipped) and then headed out to beer. Wayne, one of the Sarasota Slacker founders, had his two week old daughter Emma out. What a cutie!


Afterward we headed down to the Continental Cafe on Beneva and Webber — where the service is slow, the food is good, the beer is German and the live music is composed of teenagers playing epic rock ballads from the 70s. Sadly, the Cafe's lease is closing on the 30th of August. Their lease isn't being renewed. Rumor has it's because of some overly-ambitious noise by-law. If that's it, then that's really sad. One of the coolest things about this town is all the little eating places that have live music playing in them.
And guess what else? I got my invitation to Sue's wedding last night in the mail! I've yet to open it, but it looks rather fancy! I'm pretty excited.