Wow… so what can I say? It's been a crazy four days since our last encounter.
To kick things off: Friday, I got a chance to listen to a new mix by Braeden (a dj in Victoria). Clocking in around an hour, the mix — "LP.021" as Braeden has dubbed it — surrounds you with lush, atmospheric sounds effortlessly interwoven with the 4/4 drive of the best kind of progressive house: melodic and hard.
Also Friday: Got shipped the wrong SightClip (a holder for my newly obtained webcam). (I get to keep it though, and they're shipping me the right one.)
Saturday, I resolved to go exploring in Venice. Took Interstate 75 south 10 miles and just exited where I thought would be a good place to exit. And it's funny — though it was only 10 miles south, I had no clue where anything was.
Ended up exploring a small island just off the mainland called Casey Key. Found the beach almost immediately after arriving.


If you squint really hard at the photo above, you might be able to make out a little black line on the horizon. Well I made it a point to find out what it was. So I chanced it and headed down a street labeled "No Exit", which looked to be heading in the right direction.
And man, I didn't expect what I found. The black line turned out to be one side of a channel, with a constant exit/entry of high-speed boats and jet skies traveling down it.
And lining this waterway? Tons of people fishing.


Further away from the water you could find folks playing leisurely games of horseshoes. People drinking Bud, generally having a good time. Further in the distance, a smoker (think large round barrel tipped on its side) puffed away busily BBQing for a family get-together of 80.
Kids snorkeled just offshore, in the beach water beside the pier. I found this pretty weird, since the water was pretty distinctly orange, not and kind of water I'd like to be snorkeling in. Anyone know what causes orange water?
Saturday night I watched Office Space over at Jeff's place with Cam, Kemp and Ron. I think Ron outdrank us all. Also watched The Whole Nine Yards (finally!). A funny, if somewhat less-than-deep look at the career occupation of serial killing. As Jeff pointed out today, The Whole Nine starred that chick from Species — whom I don't think I recognized because she had clothes on. It also starred Amanda Peet (recently appearing in the excellent Igby Goes Down), whose clothes came decidedly off.
Sunday started off by receiving a phone call from Simon wishing me a happy birthday! Shortly thereafter Mom called. 🙂 Cam wished me happy birthday via phone, Ron wished me happy birthday via iChat, Neil, Hilary, Mavis and Sean wished me happy birthday via MSN Messenger, Davin wished me happy birthday via his blog, and Sarah sent me an iCard. Cooool!
"I need Starb*ck's most expensive coffee," I reasoned. "It's my birthday."
So I picked up Cam and we went for coffee. Didn't end up getting the most expensive coffee ($4.20 — can anyone guess what it is?) — instead got a grande white chocolate mocha (just $2.85). Mmmmmm. Yummy stuff.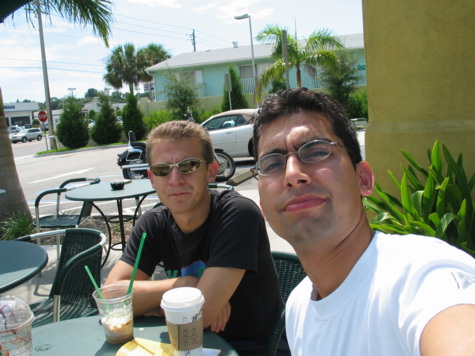 We chatted on all manner of topics, including the viability of having internet for free in a coffee house, work, and life goals and where we were in relation to these things. It's a tough topic, for sure. About mid-way through my drink I looked up and saw this: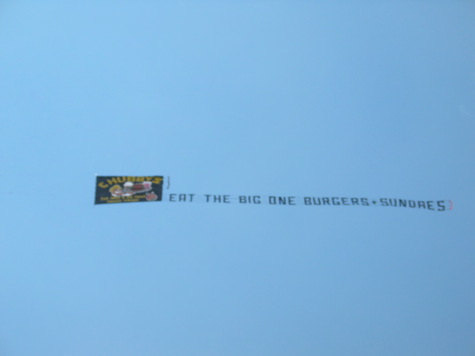 Yeah, you read right. There's a restaurant called "Chubbys". Well, no-one ever accused Americans of being indirect.
Eric and Sonia wished me a belated happy birthday today by email, and Eric G had the entire pickup ultimate frisbee group (1/2 of whom I'd just met) sing me happy birthday after the game last night! Eric G paid for my beer at the Bradenton Ale House (where a foosball machine ate my quarters, but not before I kicked Eric's arse)! How totally cool is that?


Finally, tonight, Kemp, Jeff, Cam, Ron and I went out to the Outback Steakhouse to celebrate Cam's birthday. Had the best Bloomin' Onion I think I've ever had, and got very full off of some great food. And when it came time to pay? Ron footed the bill — for both Cam /and/ me! That was an nice unexpected surprise.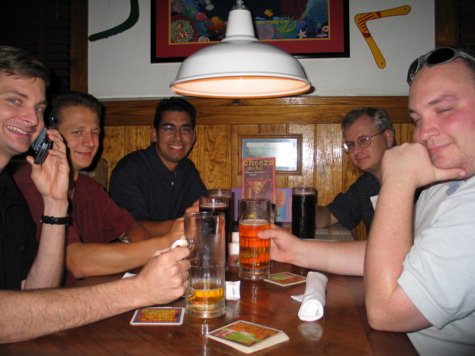 Hugo was representing on the other end of Ron's cell. It was his birthday on Sunday too! Crazyness.
Phew!! Congrats if you made it this far. Hope you had a good weekend.